VR - 6 (Med) HR - 2.0 SR - 12/20
TYPE OF APPROACH - Bushwhack
DIFFICULTY - Difficult
LOCATION - Mt. Baker Highway
TYPE - Segmented
HEIGHT - 45'
WIDTH - 45'
GPS - N48 53.630 W122 10.067
ELEVATION - 930'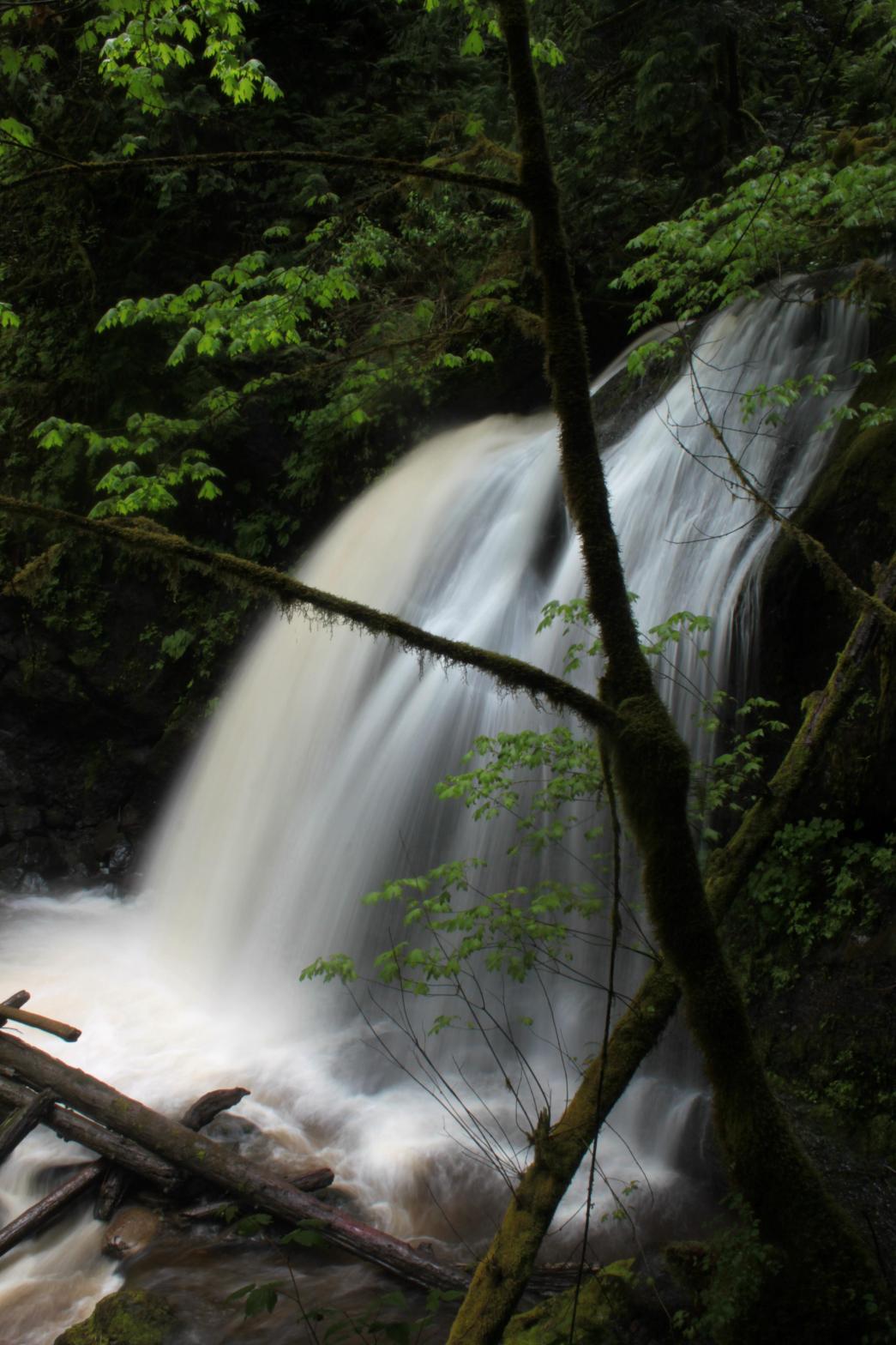 I had suspected a waterfall at this location on Coal Creek for about a year before I finally got around to visiting. I wasn't even sure if there was a legitimate waterfall and I suspected if there was one it was only about 25' tall. Turns out I was right about the existence of a waterfall, but wrong about the size (which seems to be the case more often than not lately). Emerald Falls is a gorgeous and very powerful 45' tall waterfall located on Coal Creek near the little town of Kendall. The falls occur where Coal Creek splits in two and plunges in two side-by-side drops. The majority of the water runs over the left segment where it slides down into a ramp and launches outward with tremendous force. The right segment is smaller in volume, but slides gracefully over the cliff before free-falling. The area around the falls is a beautiful area with every shade of green you can think of found on at least one of the myriad of plant species present in the canyon. I suspect the waterfall is exceptionally scenic in autumn when all the leaves have changed color.
When the creek is running at high volume, the viewpoints are limited because of the tremenous amount of spray kicked up and the difficult of fording the creek in any manner. I suspect that later in the summer when the volume is lower, there are almost endless possible views for photography. It's also probably possible to stand behind the waterfall at lower volume.
The cliff that Emerald Falls drops over is a perfect example of conglomerate rock, almost too perfect. Pieces of the cliff have fallen off around the falls and look like someone tore up an old concrete road and through the pieces down the canyon. That's just what the cliff looks like though.