VR - 6 (Med) HR - 4.0 SR - 20/20
TYPE OF APPROACH - Trail
DIFFICULTY - Medium
LOCATION - Darrington Area
TYPE - Horsetail
HEIGHT - 53' *
WIDTH - 8'
GPS - N48 08.215 W121 25.869
ELEVATION - 1018'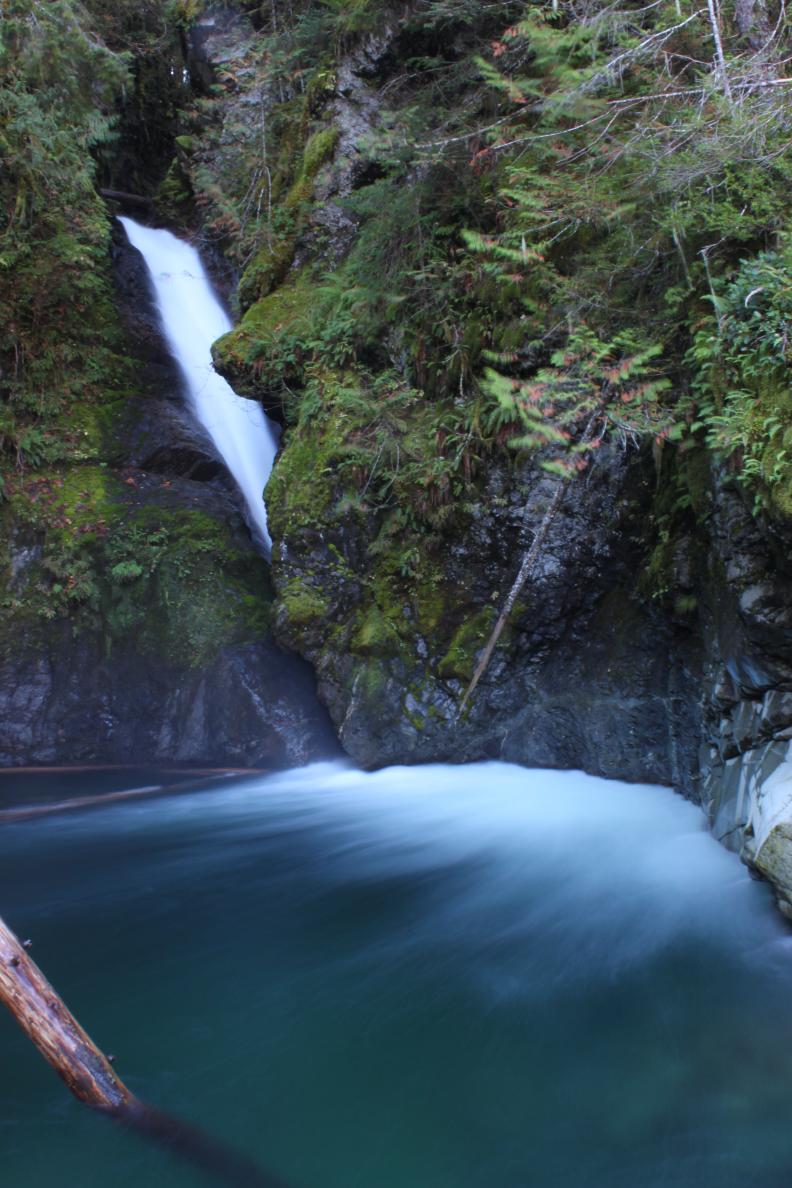 Falls Creek Falls is one of the most unique, and extremely beautiful waterfalls in NW Washington. While most waterfalls drop over a rocky wall, Falls Creek just runs diagonally right through the middle of the rock instead. The crack in the rock seems to run further underwater because the water comes to the surface several yards downstream from the bottom of the falls. Speaking of that pool, it's probably at least 30' deep and an amazing blue-green color.

In addition, there is a little cave near the falls and a few hundred feet upstream is an absolutely gorgeous 8' tall drop that is worth the short side trip.
DIRECTIONS - Drive south from Darrington along the Mt. Loop Highway and turn right onto FR 2080. Drive along the road for 3.5 miles, taking a left at the Y in the road. Park in the big turnout on the left side of the road and find the trail marked by a pink ribbon on a little tree. The trail leads steeply to the falls in about a quarter of a mile. To see the falls you must ford the creek downstream from the falls.
NEARBY WATERFALLS - Lower Peek A Boo Falls, Middle Falls Creek Falls, Peek A Boo Falls, Plinko Falls, Upper Falls Creek Falls