VR - 6 (Med) HR - 6.5 SR - 18/20
TYPE OF APPROACH - Bushwhack
DIFFICULTY - Very Difficult
LOCATION - Verlot area
TYPE - Tiered
HEIGHT - 200'
WIDTH - 25'
GPS - 48* 02' 43.58" N, 121* 44' 56.65" W
ELEVATION - 2812'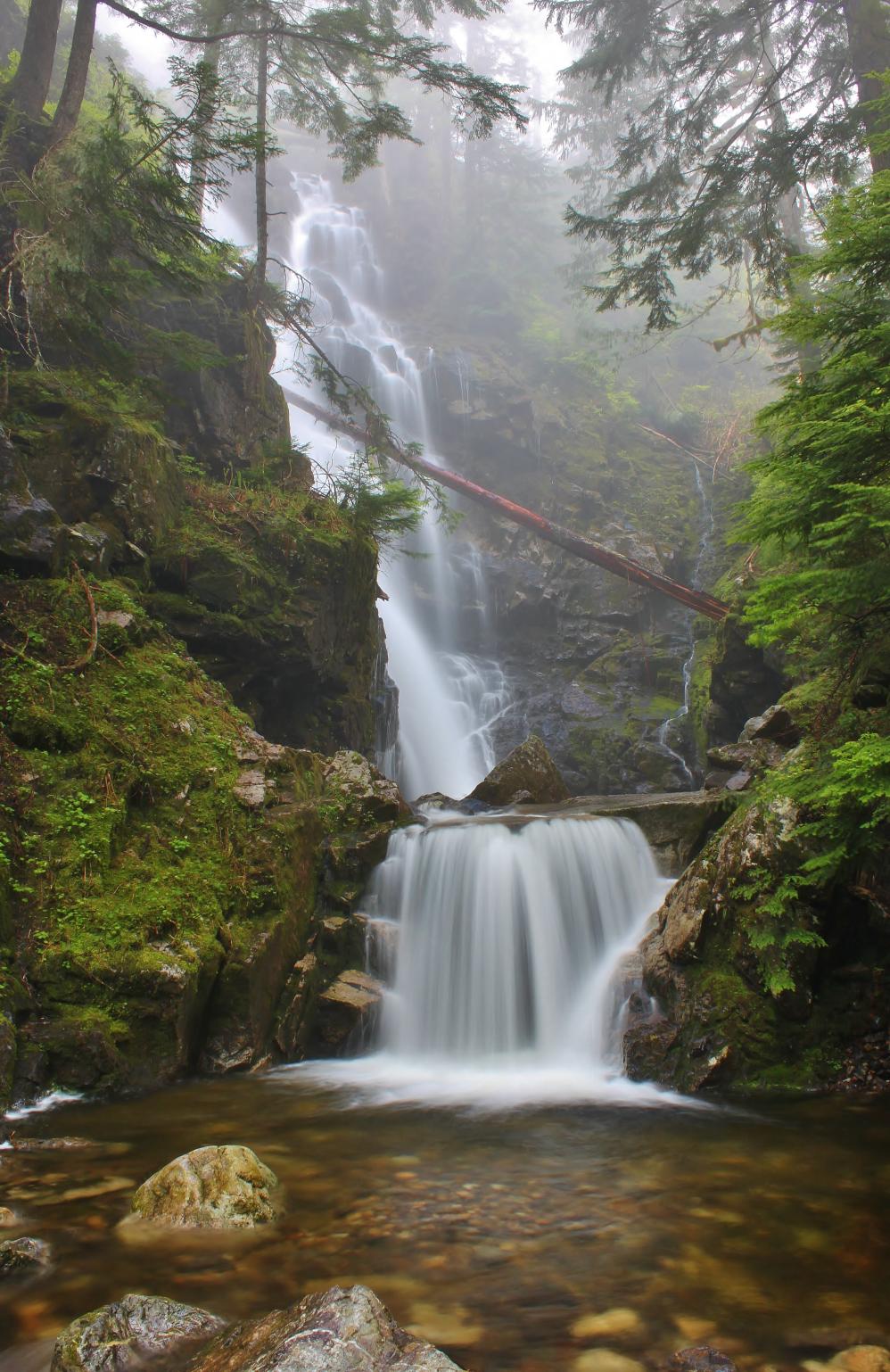 Hadley Falls is an amazing waterfall occurring where Black Creek pours down a large cliff on the southeast side of Mount Pilchuck. At the top of the falls, the creek splits in two and tumbles about 150' in a gorgeous segmented drop, combining at the bottom. Below here, the creek tumbles over a perfect 10' tall drop into a dark pool. Just downstream, the waterfall finishes up with a 40' plunge in a very constricted little canyon. While the journey in is very difficult, it's worth it for the amazing waterfall at the end.
It is probably easier to visit the waterfall by taking a different spur road that leaves FR 4021 about 1/2 a mile before 020. This would involve a longer bushwhack, but would take out the steep climb down the hill and back up again. I have yet to take this route, so it's hypothetical but I know of at least one other person who uses this lower spur road. I could not find it on my trip so it's pretty well hidden. Either way, you'll want a GPS for this trip.
DIRECTIONS - Head east from Verlot for 4.5 miles and turn right onto FR 4020. In two and a half miles, take the right onto FR 4021. Continue along the road and park at the very overgrown spur road FR 020. Walk down this extremely brushy, swampy, overgrown, brushy, swampy road for a little under a mile until it ends. From here you're about 1/3 of a mile from the falls. Start down the very steep hill, heading in the same general direction as the road was going. You'll eventually come upon Black Creek, follow it upstream to the falls.