VR - 8 (Big) HR - 9.0 SR - 16/20
TYPE OF APPROACH - Road walk
DIFFICULTY - Difficult
LOCATION - Marblemount Area
TYPE - Tiered
HEIGHT - 588'
WIDTH - 80'
GPS - N48 28.478 W121 23.264
ELEVATION - 2511'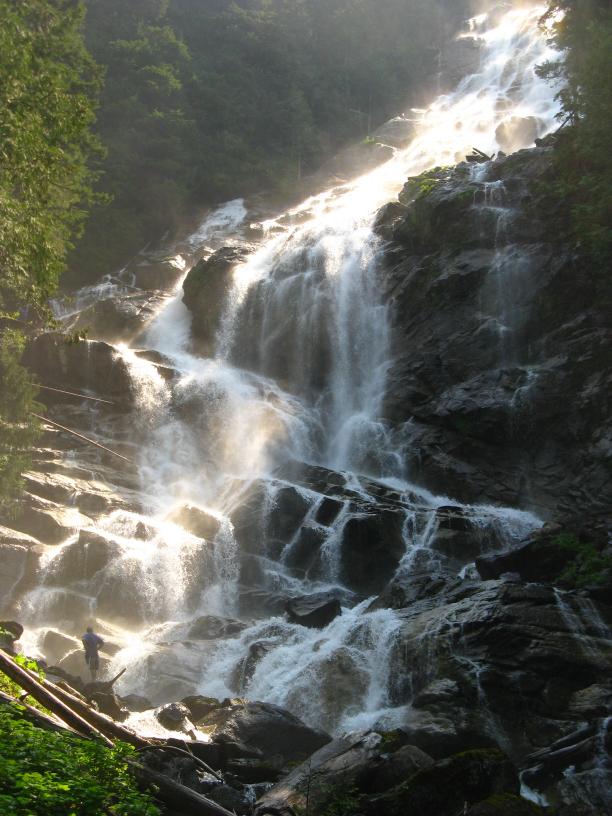 Jordan Creek Falls is the best waterfall I've ever seen. Not only is it around 600' tall, it's almost 100' wide at the bottom and the amount of water coming down is massive. During the early summer months when the snow in the basin above is melting, standing at the base of the falls is like being in a hurricane. The wind and spray coming off the falls is absolutely gargantuan. The temperature at the bottom of the waterfall tends to be 20-30 degrees cooler than the forest surrounding the falls which can make it pretty uncomfortable to stand near the base. If you want to take decent pictures of the waterfall, you almost have to visit when the volume is lower. Otherwise the spray makes it difficult to work with.
No matter how impressive the pictures may be, they don't come anywhere close to showing this falls. If you possibly can, make the difficult journey into the falls.
DIRECTIONS - Drive up Cascade River Road for about a half a mile and turn right onto Rockport-Cascade Road. In around a mile the road crosses over Jordan Creek. Park at the turnout just before the creek and head up the gated logging road on the left side of the road. About 4 miles into the hike you will get your first view of the falls. There are 4 forks along the way: right, right, left, left. The final fork heads up a fairly brushy old logging road. When it ends, head steeply up the hill into the woods, following pink ribbons. In a couple hundred feet you'll come out of the trees at the base of the falls.
NEARBY WATERFALLS - Falls Lake Falls