VR - 6 HR - 9 SQ - 14
TYPE OF APPROACH - Trail
DIFFICULTY - Very Difficult
LOCATION - Cascade River Road
TYPE - Tiered
HEIGHT - 465'
WIDTH - 25'
GPS - N48 25.159 W121 07.615
ELEVATION - 2500'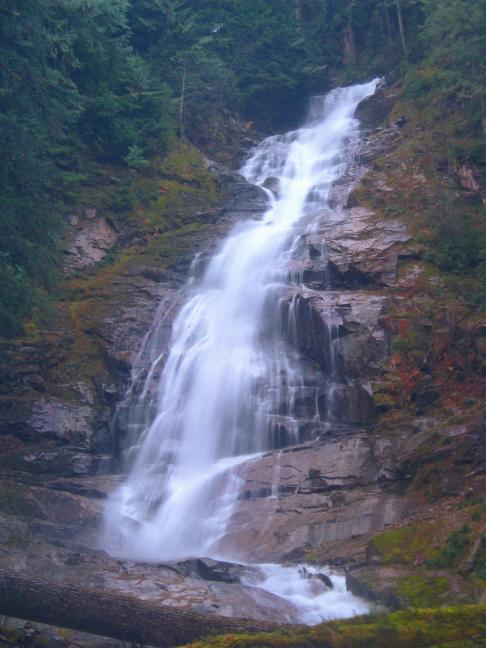 While technically on a trail, my trip to Milt Creek Falls felt more like an insane bushwhack to me. The trail has been all but destroyed for much of the route and involves climbing over countless boulders and through a vast variety or vegetation along the way. The trip is worth the effort for the wonderful waterfall at the end.
The parts of the waterfall that I have seen thus far are the 230' tall lower tier and the 210' tall tier directly above (with 35' worth of cascades in between). These two combine for 465' in height. I first visited the waterfall in 2008 and got a nice view of the bottom tier. On my most recent trip I was able to photograph a significant upper tier as well. When I got home I compared my pictures to the Google Earth images and realized that I missed the uppermost tier, which looks to stand around 200' tall. This should push the total height to well over 600', but I will need to revisit the waterfall to find out for sure.
As good as this waterfall is, this one is only recommended for those in good physical condition.
DIRECTIONS - Follow the directions to Gemini Falls. Where the Middle Fork Trail heads left, continue straight instead, crossing the Middle Fork in a few hundred feet. This area has been decimated in the recent past by a forest fire and the trail is all but lost in many places. If you lose the trail just keep your eyes open for ribbons marking the way. It's a difficult trek, but at around 4.2 miles from the car, you should hear and see Milt Creek on the opposite side of the South Fork. To get a good view you'll have to get across the river somehow. It's not deep, but it's really cold. The falls are about 300' upstream from the river. To see the upper tiers you'll have to climb up the super steep hill alongside the lower tier.
NEARBY WATERFALLS - Gemini Falls