VR - 3.6 (Med/Sm) HR - 7.0 SR - 16/20
TYPE OF APPROACH - Bushwhack
DIFFICULTY - Very Difficult
LOCATION - Washington Pass Area
TYPE - Tiered
HEIGHT - 232'
WIDTH - 20'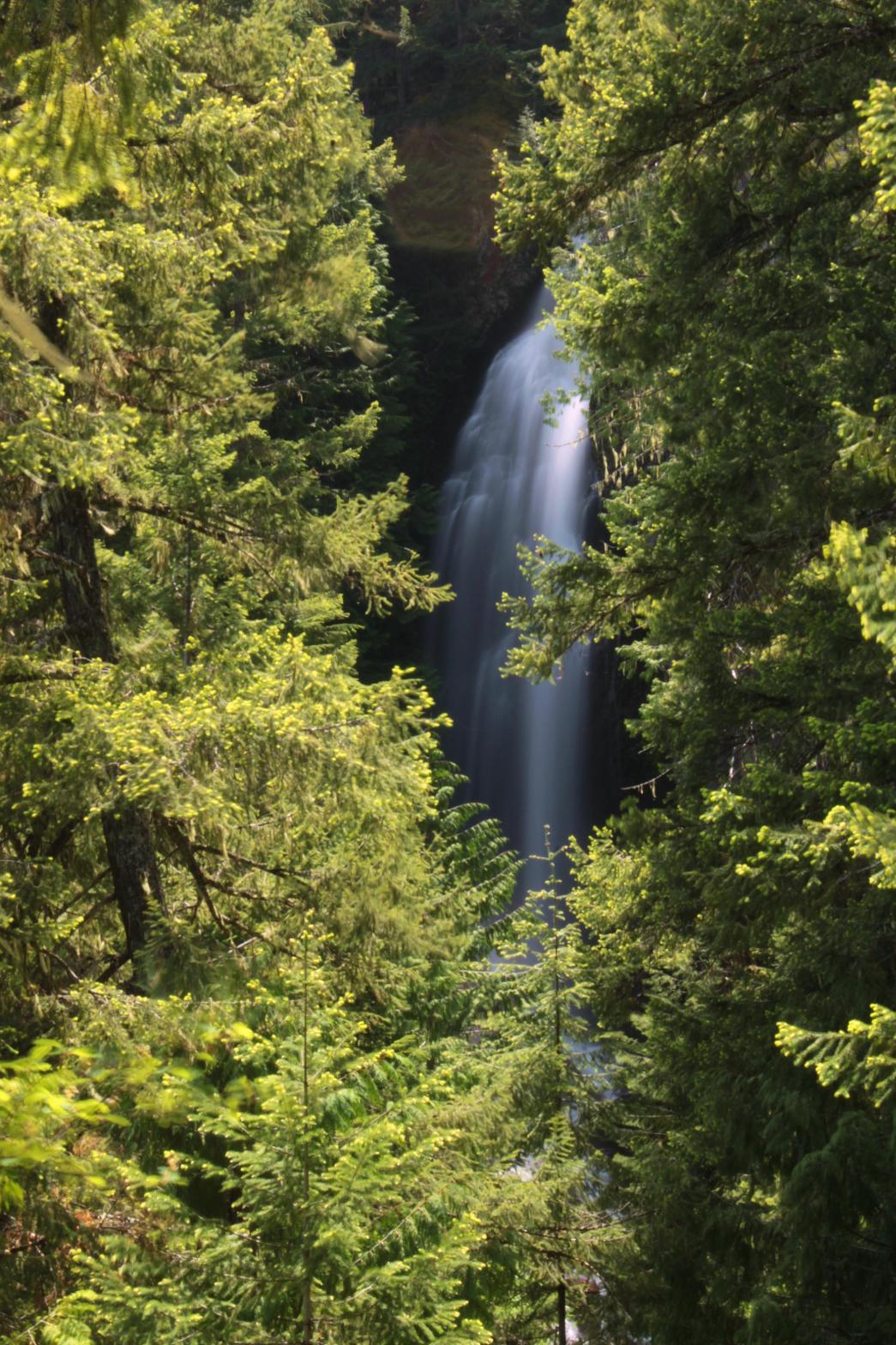 Quartz Canyon Falls was a wonderful surprise when I discovered it. I had known about and photographed the lovely Cascade Crest Falls for several years before I begun to wonder what was located upstream. While the waterfall is not visible on aerial images that are currently available, I became convinced enough that I decided to take a look upstream. What I discovered was a beautiful 232' tall waterfall located in a steep, deep, and heavily forested canyon.
The waterfall begins with a 141' plunge that spreads out to around 30' wide as it falls. The creek then runs over 37' worth of cascades before plunging another 54' in the final tier. Because of the amount of trees around the canyon, it's pretty difficult to see the upper tier from the base. I suspect when the volume is lower and the sun is in a better position (it was directly over the top of the falls when I went), one can get some nice pictures from the base. There is a nice view of the upper tier from partway into the canyon (see picture on the left), and the bottom tier is easy to see from the base. Around the waterfall, a large landslide has dumped a bunch of rocks into the canyon near the base. Strewn about in this pile of rubble are a bunch of pieces of really nicely formed quartz crystals. Many were smaller pieces, but I saw several that were as big as my dog (he's pretty small). I decided to name the falls in honor of these great pieces of crystal.
The climb up the ridge alongside the creek is very steep and thoroughly exhausting. There are quite a few flowers along the way in the spring, so at least you have something to look at when you stop every 15 feet to take a break. The creek the falls occur on is unnamed but I've never seen it run completely dry. Late in the summer the volume is reduced to a trickle, but the creek can be quite substantial when the snow is melting.