VR - 4 (Med/Sm) HR - 7.5 SR - 8/20
TYPE OF APPROACH - Trail + Bushwhack
DIFFICULTY - Extremely Difficult
LOCATION - Lake Cavanaugh Area
TYPE - Tiered
HEIGHT - 350'
WIDTH - 20'
GPS - N48 18.687 W121 49.987
ELEVATION - 2050'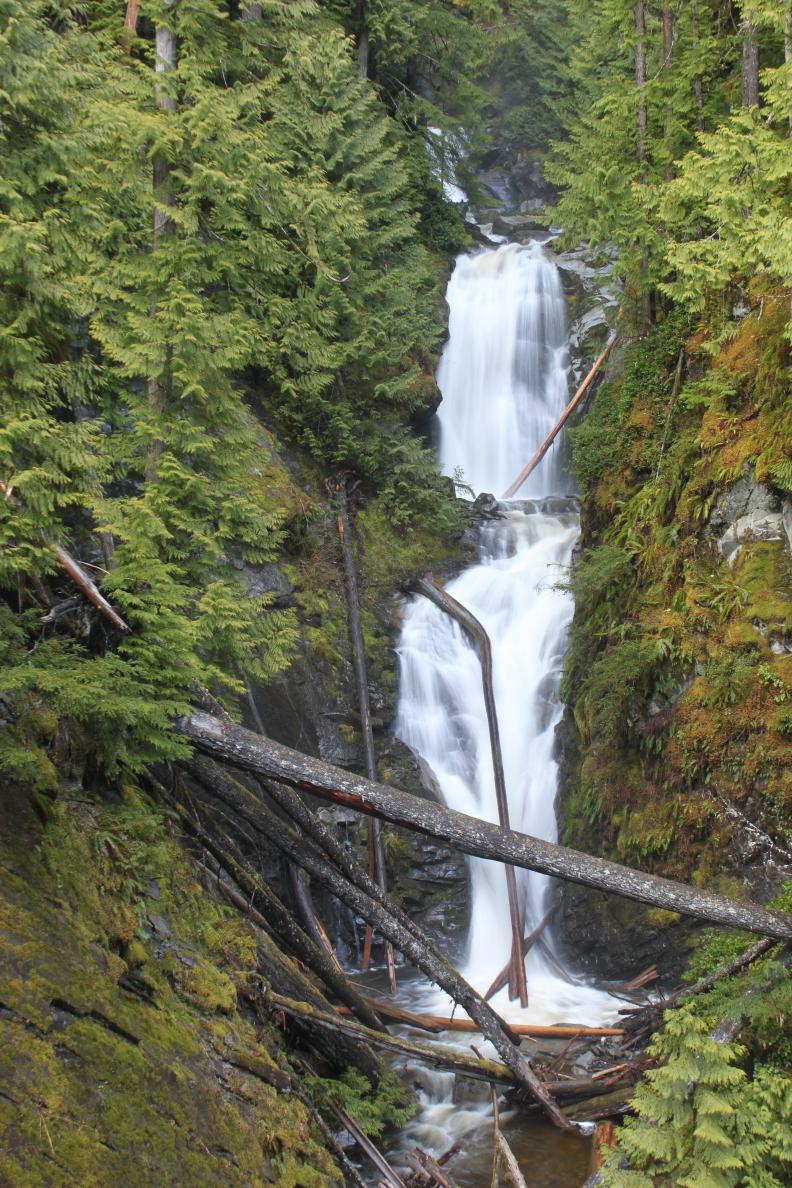 Dicks Creek flows out of Myrtle Lake on the west end of Mt. Higgins near Darrington, WA. After meandering for a short distance, the creek begins a drop through an extremely steep and rugged canyon. Along the way it drops over six major tiers, totally about 350' in height.
The falls begin with a 75' tall, three-stepped drop, the bottom of which is covered with logs and trees. Below here, the creek plunges 65' in a sheer drop, immediately followed by a 15' drop. From there the creek drops over my favorite tier, a back-to-back drop about 75' tall. Drop #4 seems to be about 50' tall, but I couldn't get a clear view of it from the west side of the canyon. Finally, the falls finishes up with two similar tiers; each of which consists of a 25' drop and a 10' drop. The total height of the falls is well over 300' in height. There appear to be more tiers above the "upper tier" listed above but I haven't seen them yet. Some people might want to split the falls up into individual sections, but there really is no reason or simple way to do this.
Getting a view of Dicks Creek Falls involves scrambling up and down very steep slopes and if you are not very comfortable with steep bushwhacks, leave this one alone. A mistake in this canyon will kill you. If you are comfortable with this then a great waterfall awaits you.
The tragic Oso Landslide occured very close to this waterfall and I suspect that the road used to access the trail and waterfall has been at least partially destroyed. It may no longer be possible to visit this waterfall.