VR - 4 (Med/Sm) HR - 7.0 SR - 12/20
TYPE OF APPROACH - Roadside
DIFFICULTY - Very Easy
LOCATION - Washington Pass Area
TYPE - Tiered
HEIGHT - 240'
WIDTH - 20'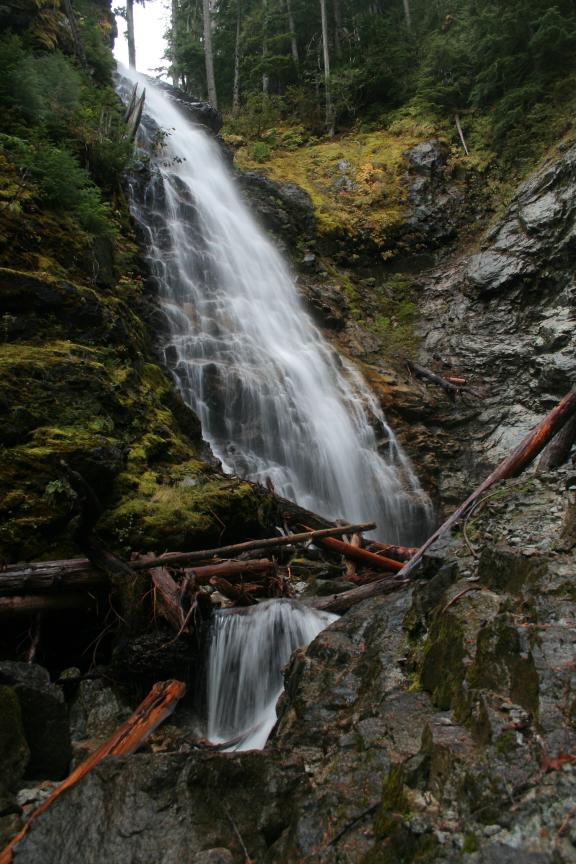 This small creek drops over 200' in a series of sliding drops just upstream from Highway 20'. The falls begin with a 23' plunge into a narrow crevace. This is followed by a pretty 39' tall section of cascades. The creek then drops over the largest individual tier: a 68' tall crescent shaped drop surrounded by mossy rocks. This tier and the one immediately above can be seen together. From there, the creek cascades for another 30 vertical feet or so before dropping over the pretty, 60' tall fan-shaped drop that can be seen from the highway. This tier by itself is a worthy waterfall, but when you add in the upper tiers, it makes this a much more substantial waterfall. It's possible to rockhop/wade upstream from the highway to the base of the lower tier, but only when the creek is running at a lower volume.
The Waterfall Lover's Guide calls this Bebee Creek Falls. The name Emerald Pool Falls comes from Bryan Swan and sounds much better than Bebee Creek Falls. From the road the falls appears to be a horsetail style waterfall but walking up to the base gives a good view of the nice fan shape.
DIRECTIONS - Take HWY 20 east to the Ross Dam Trailhead. Continue on 20 for another 10 1/3 miles to where the falls are seen on the right side of the road. To view the upper sections, walk down the road to the east for a few hundred feet to where the slope is climbable and start climbing in the direction of the creek. You'll have to climb a couple hundred feet in total. Once you get atop the ridge alongside the creek the going isn't too bad.
NEARBY WATERFALLS - Cascade Crest Falls, John Pierce Falls, Lillian Creek Falls, Sattler Falls, Upper Emerald Pool Falls