VR - 3.6 (Med/Sm) HR - 4.0 SR - 6/20
TYPE OF APPROACH - Roadside
DIFFICULTY - Very Easy
LOCATION - Ross Lake Area
TYPE - Horsetail
HEIGHT - 75'
WIDTH - 20'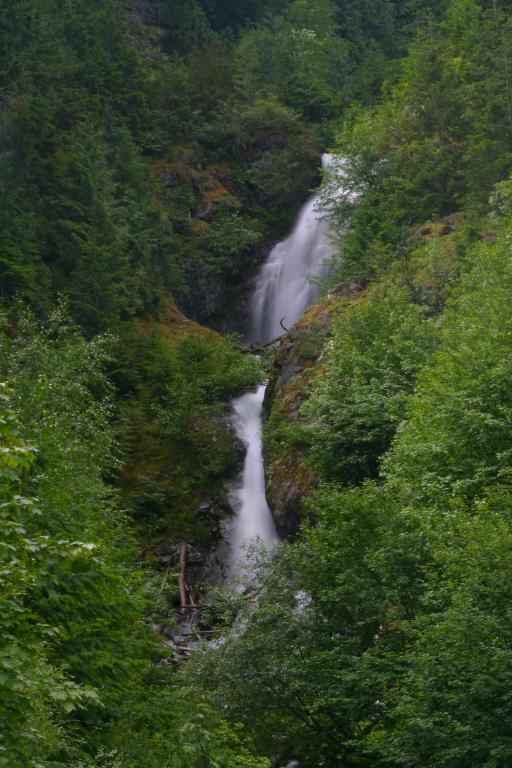 Sattler Falls was named by Bryan Swan after Kim Sattler who apparently died near the falls. The falls themselves are a little over 100' tall and are surrounded on all sides by various shades of green. In the winter of 2012, a huge avalanche came down this creek. It was so deep on my visit that only the top of the falls could be seen. This will make for quite a mess of lumber under the falls once the snow melts but will open up the view a bit. It also opened a view up of a very large upper tier that was previously not visible (see picture below). Whether this tier is immediately connected to Sattler Falls or a separate upper falls is unknown at this time.
The area surrounding the pullout has a tremendous collection of wildflowers where one can easily waste some time taking pictures and in the fall the hillside around the falls displays an amazing amount of yellow and orange.
DIRECTIONS - Drive east on Highway 20 past Ross Lake. Sattler Falls can be seen just after crossing over Lillian Creek. A small memorial to Kim Sattler sits by the highway near the falls.
NEARBY WATERFALLS - Cascade Crest Falls, Emerald Pool Falls, John Pierce Falls, Lillian Creek Falls, Lower Lillian Creek Falls, Lower Sattler Falls, Upper John Pierce Falls, Upper Sattler Falls