VR - 6 (Med) HR - 6.0 SR - 14/20
TYPE OF APPROACH - Bushwhack
DIFFICULTY - Difficult
LOCATION - South Skagit Highway
TYPE - Tiered
HEIGHT - 190'
WIDTH - 10'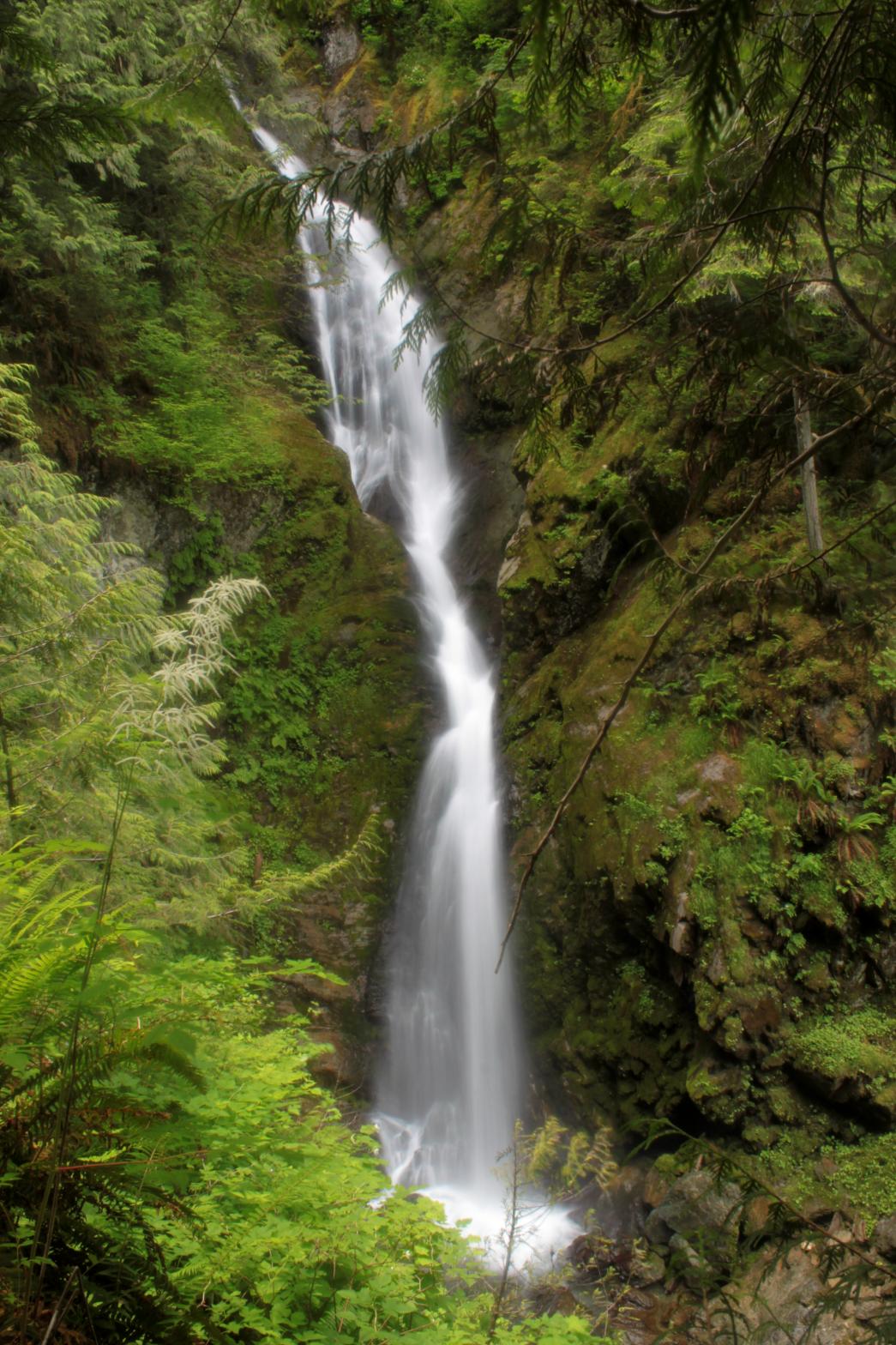 Mill Creek Falls is a tall, multi-tiered waterfall located in a deep, steeply walled canyon a couple miles upstream from the South Skagit Highway. The falls drop a total of 190' in four tiers. The uppermost tier is a 35' curtain of water that can't be seen from the base. This is followed the by 127' tall main tier. This drop sort of curves around as it falls in a weird twisting horsetail. From the front, this actually looks like two separate tiers, but if you scramble up to a view right in front of the drop you'll see that it's one continuous drop (see photo on the left). Below this drop, the creek has two more tiers: a 16' horsetail and a 12' tall fan shaped drop. The area around the falls is beautiful as well. There are abundant ferns and moss that make for a very lush scene.
Located at the base of the falls on the left is an old mine of some sort. I haven't been able to find any information about this mine, but I have a friend of mine researching the matter. I walked about 100' into the mine before it got too dark to continue. If I go back to the waterfall, I'll be sure to take a flashlight so I can investigate further.
As cool as the area is, it takes a long time to get in there. The round trip was about five hours. There are only a couple of difficult spots on the journey; it's just long. If you attempt the trip upstream from the highway, make sure you have shoes with good ankle support and plan on getting wet.