VR - 6 (Med) HR - 6 SR - 8/20
TYPE - Tiered
HEIGHT - 200'
WIDTH - 15'
TYPE OF APPROACH - Bushwhack
DIFFICULTY - Extremely Difficult
LOCATION - Middle Fork Nooksack Road
GPS - N48 45.279 W121 54.384
ELEVATION - 3241'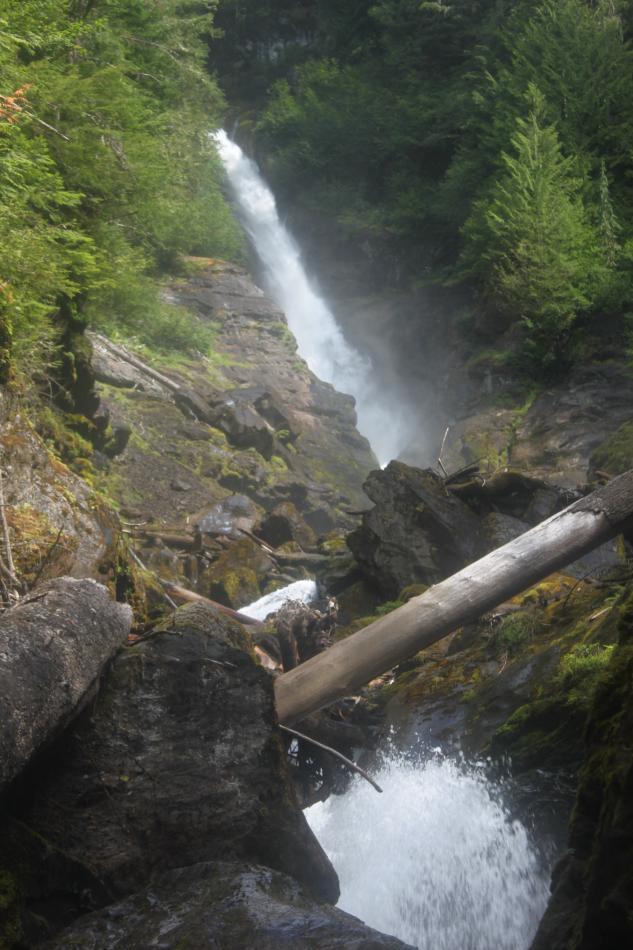 Wallace Creek is a large creek in the Middle Fork Nooksack Valley. The creek appears to harbor four waterfalls. The uppermost of these falls appears from satellite imagery to be a sheer plunge high on the slopes of Mt. Baker. De Haro Falls is the second, and probably largest waterfall on the creek.

Wallace Creek shoots out from the cliff face and plunges around 100' before immediately turning and dropping another 15'. Below this, the creek continues to cascade for another 100' or so which could legitimately be added to the height. This section is absolutely covered with logs and debris so it's not the prettiest area. Getting to the falls involves an extremely difficult bushwhack that I can't recommend to anyone.

Mt. Baker was named for Lt. Joseph Baker of George Vancouver's ship. However, the first European to document the mountain was Gonzalo Lopez de Haro, two years earlier. Since he was robbed of naming the mountain, the least we can do is give him a waterfall. This will also help avoid confusion with Wallace Falls off Highway 2.