VR - 5.6 (Med) HR - 8.0 SR - 16/20
TYPE OF APPROACH - Bushwhack
DIFFICULTY - Very Difficult
LOCATION - Miller River Road
TYPE - Tiered
HEIGHT - 489'
WIDTH - 10'
GPS - N47 39.632 W121 21.847
ELEVATION - 2628'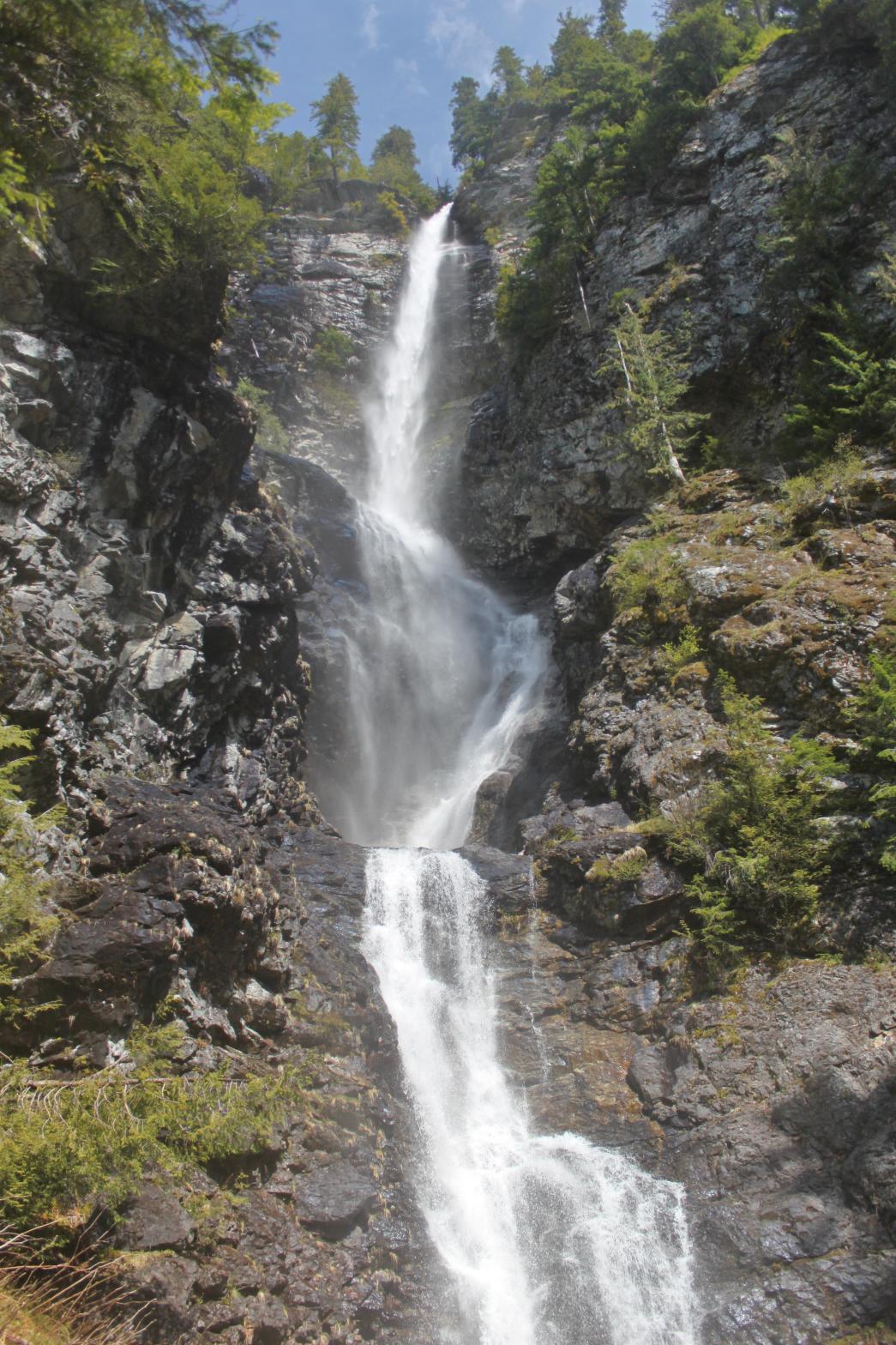 When the snow is melting, Engle Creek contains one of the most impressive waterfalls in Northwest Washington, and from what I can tell the falls was completely undocumented until I reached the base. This is especially surprising considering the falls can be clearly seen from a popular Forest Service road. I did find a couple of flagged trees in the general vicinity of the falls so I'm sure I'm not the first person to visit. It would be pretty easy for the Forest Service to build a trail into the falls and I'm sure many people would love to visit this incredible waterfall. Driving down the road in late August, the falls appeared to be completely dry so make sure you hit this on in spring or early summer. Now for the details:
The falls begin with a sheer plunge of 411' over a massive cliff face. When the volume of the creek is lower, the falls hit the cliff part way down and spread out in a variety of misty plunges. Below this it drops again, plunging another 78', bringing the total to around 489'. There are several cascades downstream that could potentially be added to the overall height, but this seems a bit unnecessary. The best view of the falls is from the north side of the creek, looking right into the face of the two tiers. This involves fording the creek but if you've made it that far, a little water and some more climbing isn't going to stop you.
DIRECTIONS - Turn off of Highway 2 onto Money Creek Road about 3 miles west of Skykomish. In 1 mile, turn onto Miller River Road and follow it for about 3.5 miles to the bridge over the West Fork. Just past this, the top 1/3 of the falls should be visible to your left over a mile away. To get to the base, continue along the road until it crosses the East Fork. Shortly after that will be a pullout on the right and a dirt road head off to the left. Park and follow the road to its end (it gets brushy). Once it ends, you're about 2/3 of a mile away. Just keep bushwhacking through the brush in the same direction the road was heading. You'll have to climb about 700' in elevation to the falls but you'll eventually run into the creek. If you can't see the falls just head upstream until you do.
NEARBY WATERFALLS - East Fork Falls, Great Falls, Lower Camp Robber Creek Falls, Lower Florence Falls, Mohawk Falls, Purvis Falls