VR - 3.6 (Med/Sm) HR - 2.0 SR - 12/20
TYPE OF APPROACH - Roadside
DIFFICULTY - Very Easy
LOCATION - Cascade River Road
TYPE - Tiered
HEIGHT - 40'
WIDTH - 10'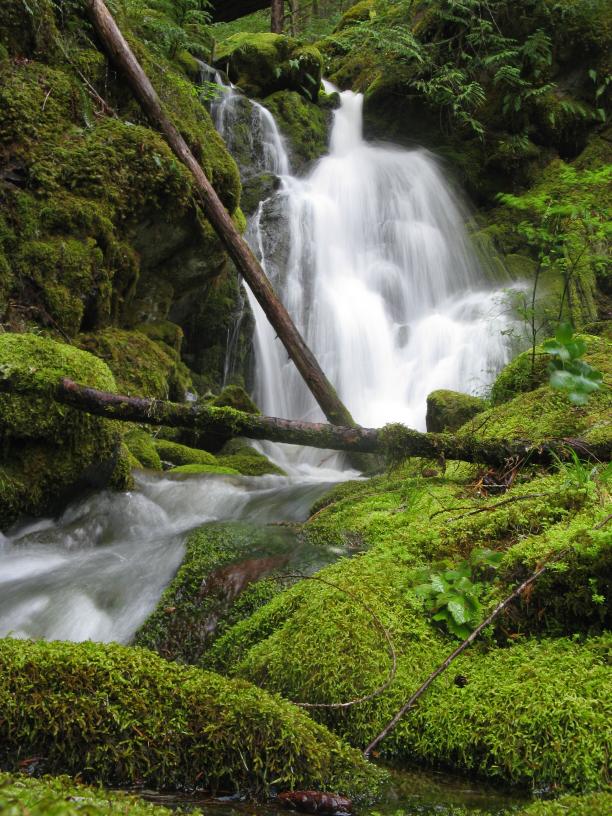 Forest Glen Falls is one of the prettier waterfalls in NW Washington. The small stream runs over a 30' tall curtain shaped falls before dropping over another 10' sliding drop. While small in height, this is one waterfall that should not be overlooked.

On my most recent trip into the area, I was disappointed to find that several large trees had fallen in front of the falls and covered up one of the prettiest scenes anywhere. I will take years and/or a chainsaw and a full day of work to return the falls to their former beauty.
DIRECTIONS - Follow the directions to Goblin Falls. Continue along the Cascade River Road for a few more miles, passing Sibley Creek along the way. Park at a small pullout on the left side of the road where the falls can be seen through the trees. A rough trail leads to the main drop.
NEARBY WATERFALLS - Barrett Creek Falls, Goblin Falls, Hard Creek Falls, Irene Creek Falls, Lower Forest Glen Falls, Mystery Falls