VR - 6 (Med) HR - 5 SQ - 10
TYPE OF APPROACH - Bushwhack
DIFFICULTY - Very Difficult
LOCATION - Verlot Area
TYPE - Tiered
HEIGHT - 117'
WIDTH - 25'
GPS - 48 04.645' N 121 47.173' W
ELEVATION - 1906'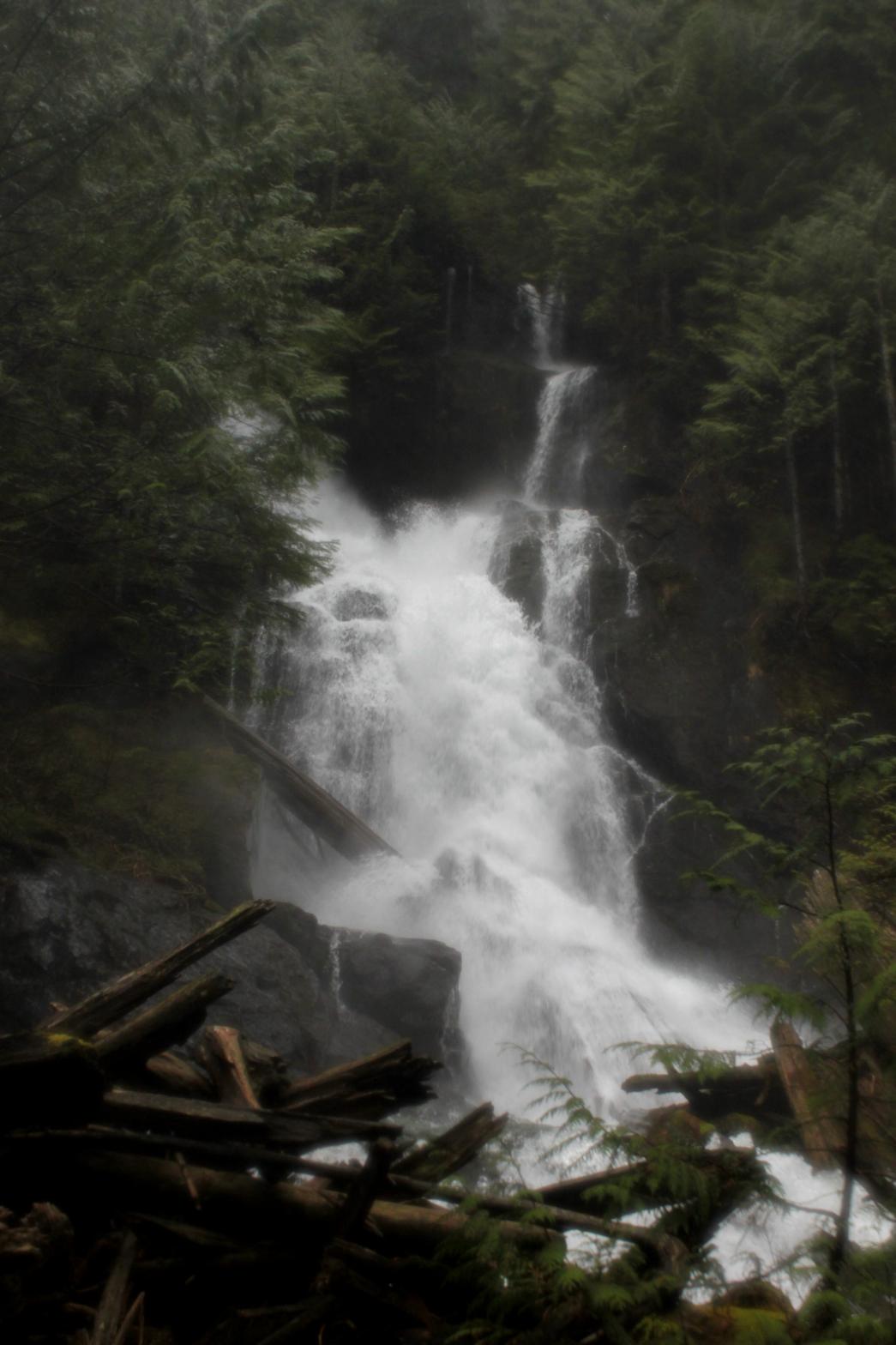 Heather Creek is a large creek that begins in lovely Heather Lake and travels down the slopes of Mt. Pilchuck to eventually join the Stillaguamish River. Because of the number of waterfalls on nearby Twenty-Two Creek, it was always sort of assumed that Heather Creek would contain a number as well but only two had been documented before I decided to follow the creek down from the lake. The creek contains six waterfalls along its route, five of which occur between the lake and Mt. Pilchuck Road.
Powderkeg Falls is the best waterfall on the creek. Just downstream from the bottom of Upper Heather Creek Falls, the creek drops over a two-tiered waterfall, slamming into the cliff halfway down and exploding outward in a mass of white water and spray. I named the waterfall because of the explosion of water, but all the logs laying around sort of look like the exploded remains of the keg as well. I'm not 100% sold on the name so it might end up changing. Let me know if you have any thoughts.
On my first trip to the falls, the volume was so high that it was very difficult to take pictures. I will probably return in the future with a normal volume of water because I suspect one can get some nice pictures here. It is probably necessary to cross the creek to get a view of both tiers together and I wasn't willing to do that with the creek as high as it was. When the volume is high, a second segment appears to the right of the upper tier that, according to Jeffery Abbott, makes the waterfall look like a long-eared owl.
DIRECTIONS - Head out the Mountain Loop Highway past Granite Falls. Just after passing the Verlot Ranger Station, turn right onto FR 42 that heads up to the Mt. Pilchuck Trailhead. Park at the Heather Lake Trailhead and hike up. I hiked all the way to the lake and then followed the creek down. It's probably possible to save some distance by heading towards the creek from the trail about 3/4 a mile before the lake. There is a short rockslide area along the trail. I believe (and I could be horribly wrong here) that following this rockslide down to the creek will take you very close to this waterfall.

NEARBY WATERFALLS - First Falls, Heather Creek Falls, Kayoo Falls, Middle Heather Creek Falls, Seesoolk Falls, Triple Creek Falls, Upper Heather Creek Falls