VR - 6 (Med) HR - 7 SQ - 6
TYPE OF APPROACH - Bushwhack
DIFFICULTY - Very Difficult
LOCATION - Verlot Area
TYPE - Cascades
HEIGHT - 339'
WIDTH - 20'
GPS - 48 04.536' N 121 47.223' W
ELEVATION - 2362'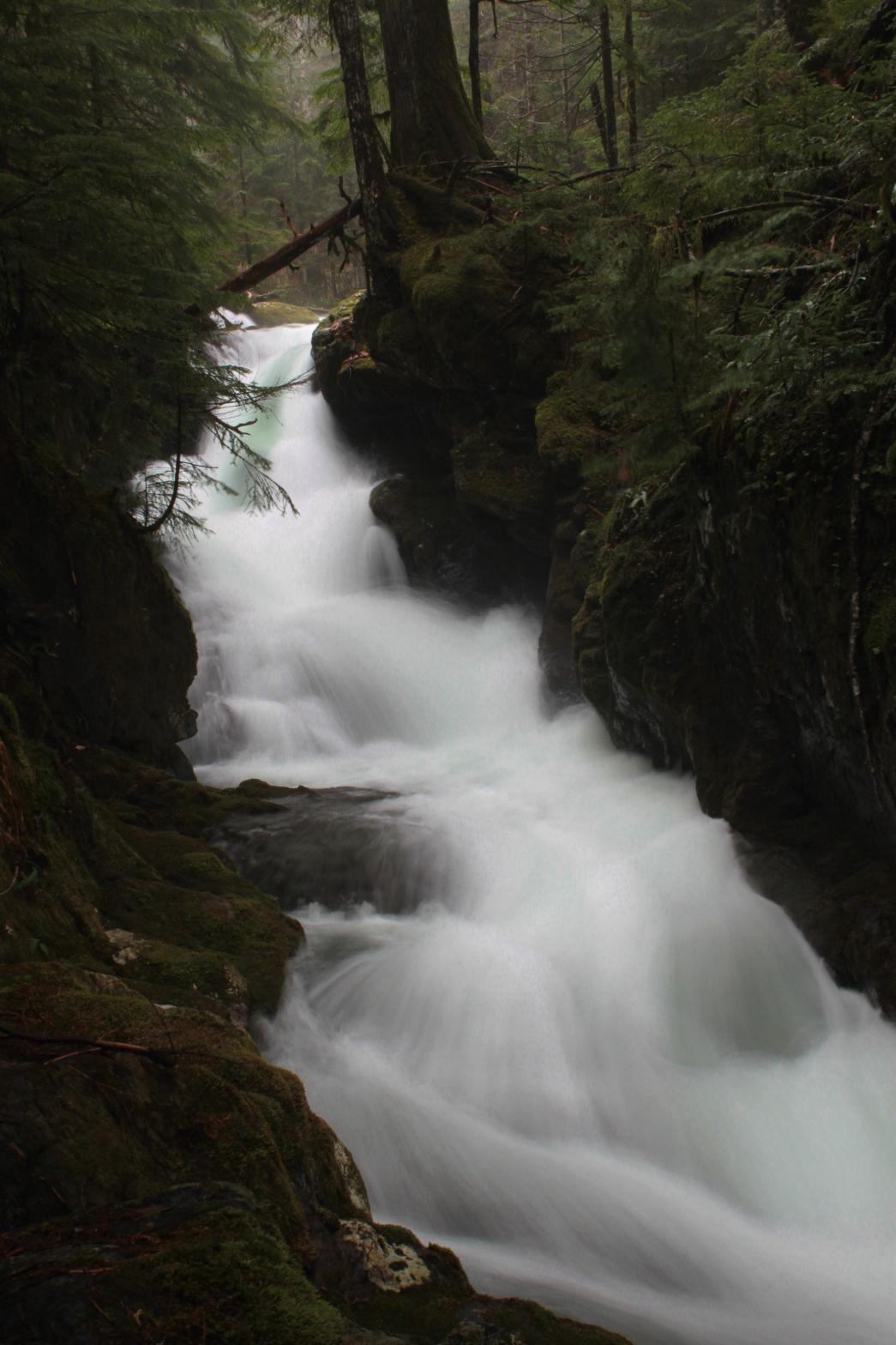 A short distance downstream from Heather Lake, the creek begins a long series of cascades and slides. Upper Heather Creek Falls drops a total of 339' over a run of nearly 1/4 of a mile. The falls begin with a beautiful 15' tall upper tier (left). From there it runs through a narrow bedrock sluice for about 45' before turning a corner and continuing to thunder down the mountainside in a series of cascades. There are several more nice little tiers along the way. The waterfall finally finishes with a pretty, fan-shaped 45' tall tier that would make for some really nice photographs with a lower volume in the creek. At the bottom of this tier the creek temporarily flattens out before crashing over Powderkeg Falls.
Overall the waterfall is impressive in its height and the volume of the creek, but other than a couple individual tiers of the waterfall, it's probably not worth the effort to view. It's a super pretty area, but it's really difficult to navigate and since only about 50' worth of the waterfall can be seen from any one spot it loses a lot in quality.
Some people may want to call Powderkeg Falls an additional tier of this waterfall and I would probably have a hard time convincing them it's not. However, I felt that the noticeable, although small, flat step between the two and the much more vertical nature of Powderkeg Falls was enough to separate them. There's also no way to see the two together.
DIRECTIONS - Head out the Mountain Loop Highway past Granite Falls. Just after passing the Verlot Ranger Station, turn right onto FR 42 that heads up to the Mt. Pilchuck Trailhead. Park at the Heather Lake Trailhead and hike up. I hiked all the way to the lake and then followed the creek down. It's probably possible to save some distance by heading towards the creek from the trail about 1/2 a mile before the lake.

NEARBY WATERFALLS - First Falls, Heather Creek Falls, Kayoo Falls, Middle Heather Creek Falls, Powderkeg Falls, Seesoolk Falls, Triple Creek Falls