VR - 8.0 (Big) HR - 6.0 SR - 10/20
TYPE OF APPROACH - Roadside
DIFFICULTY - Very Easy
LOCATION - Baker Lake Area
TYPE - Tiered
HEIGHT - 170'
WIDTH - 25'
GPS - N48 46.216 W121 40.528
ELEVATION - 1622'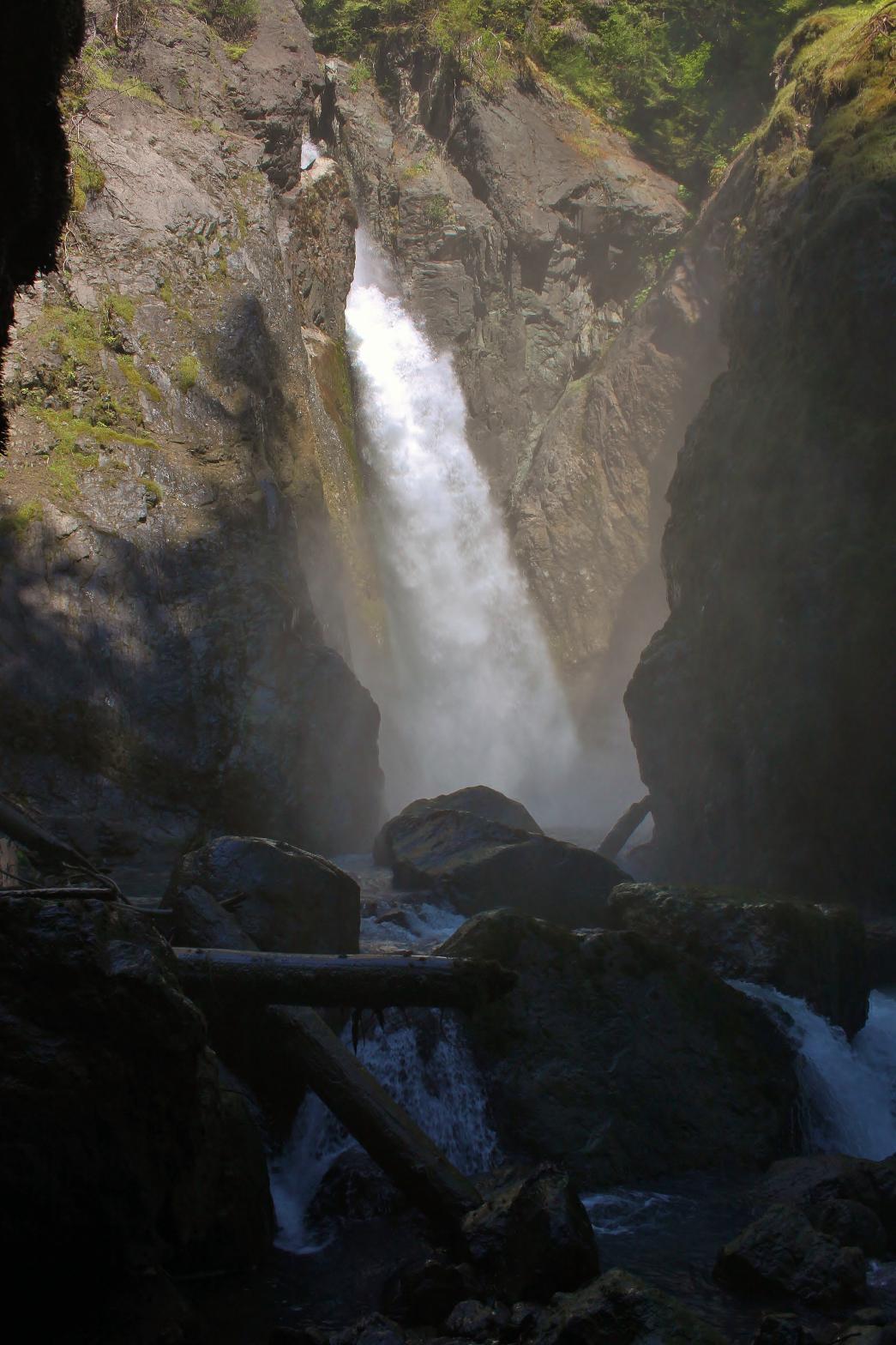 Rainbow Creek drops off the edge of the cliff face and falls for about 100' before hitting the cliff and spreading out in a huge spray of water and falling another 70'. The views of the falls are annoying because there are always a few branches in the way.

We found a way to the base of the falls on Memorial Day 2010. Only problem is there's so much spray down there it's virtually impossible to see anything (see pictures below). It's still cool and the trip to the base involves a journey through a very cool old canyon. My guess is Rainbow Creek used to run through this canyon in the past and it somehow got blocked off, sending Rainbow Creek on its current course over the falls. Either way, there is now a small creek that runs through the canyon and three small volume, but very pretty waterfalls are passed on the way to the base of Rainbow Falls (see pictures below right).
DIRECTIONS - Follow the directions to Lower Morowitz Falls. Continue driving up the road, taking the left at the fork in the road. A short distance later you will come to a switchback with the falls off to the right. Slightly better views can be had by climbing down the steep hill to the edge of the canyon but be careful. The drop is steep and deadly and probably not worth the trouble.
NEARBY WATERFALLS - Blueberry Falls, Boulder Camp Falls, Lava Divide Falls, Lower Morowitz Falls, Park Glacier Falls, Upper Morowitz Falls, Snawes Falls, Upper Rainbow Falls