VR - 1.8 (Small) HR - 7.0 SR - 16/20
TYPE OF APPROACH - Trail + Bushwhack
DIFFICULTY - Difficult
LOCATION - Segelsen Road (FR 18)
TYPE - Horsetail
HEIGHT - 250'
WIDTH - 25'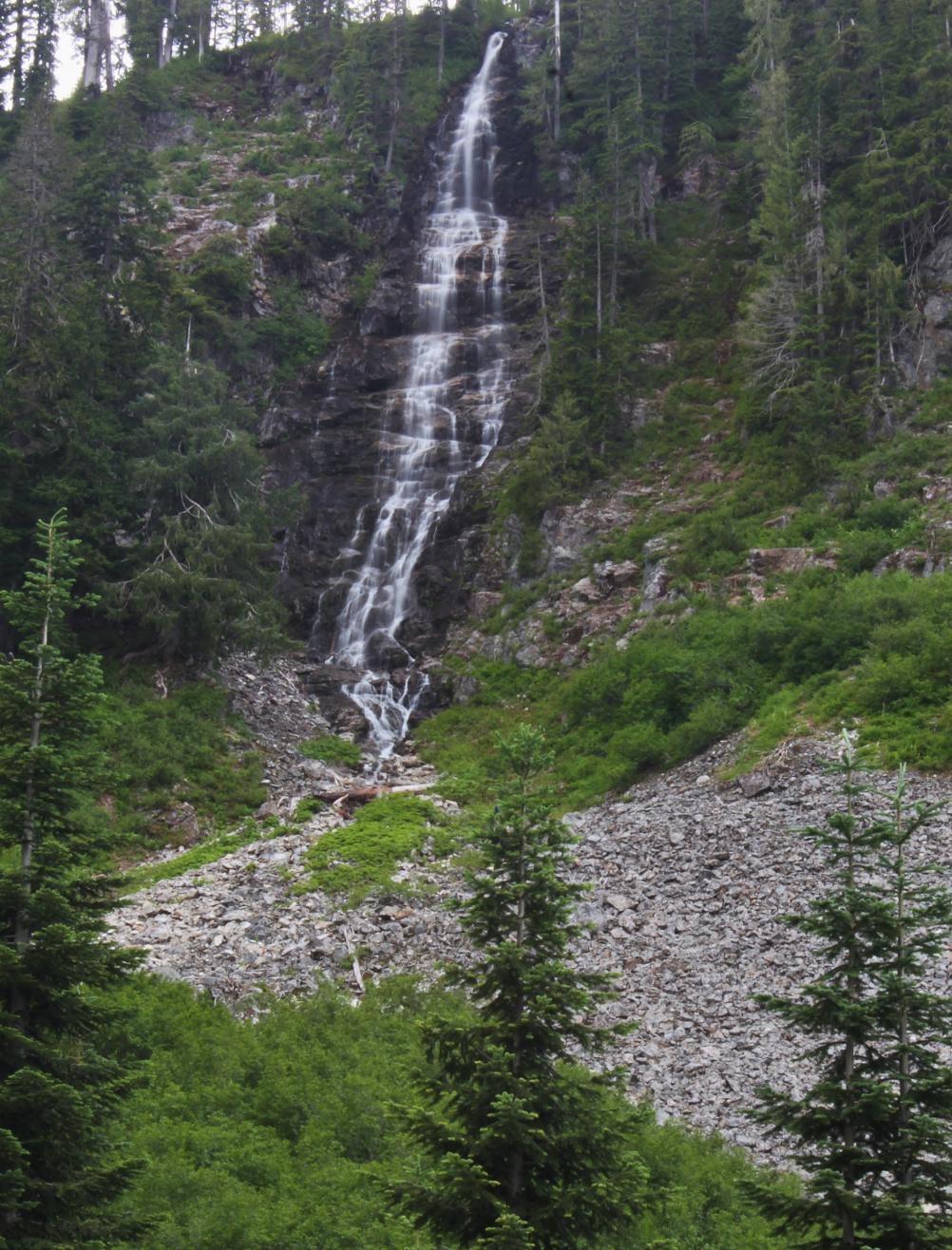 Tiny Shelf Lake sits on the north side of Round Mountain. The lake is a rarely visited gem, surrounded by rocky shores on three sides with the northern face of Round Mountain dominating the skyline to the south of the lake. Almost immediately upon exiting the lake, the outflow drops over this gorgeous 250' tall waterfall. The normal view is from straight in front and for some reason the waterfall doesn't look nearly as impressive from that angle. If you climb up to the lake, a side view of the waterfall shows much better how much water is present in the waterfall. Shelf Lake Falls can be distantly seen from FR 18 as well but you sort of have to know right where to look from just the right spot on the road and it's still tough to find from there.
From the first view of the waterfall, climb slightly uphill towards the larger trees and you should run into the old trail. Follow it to a large boulder field and scramble up the steep field towards the lake. At the top you will find a rock outcropping with a beautiful view of the Deer Creek Valley. The trail continues from here, climbing nearly vertically in places until it reaches the stunning lake. If you visit the waterfall, it will be worth your trouble to climb the rest of the way to the lake. The rapid deterioration of the road used to access the falls and lake means that this lake and waterfall will probably be all but impossible to visit within a few years so if you want to go, do it now.
DIRECTIONS - Get onto Segelsen Road (FR 18) from either side and drive up to Deer Pass. Just north-west of the pass, park your car and start walking up FR 1840. Follow the road for around 3.5 miles, passing Round Mountain Falls in the process. At the 3.5 mile mark, the road will seemingly end. If you look closely you will see a boot path through the brush of the old roadway. Follow this rough path for another 3/4 of a mile or so until Shelf Lake Falls will come into view.
NEARBY WATERFALLS - Hawkins Lake Falls, Round Mountain Falls