VR - 6.0 (Small) HR - 5.0 SR - 18/20
TYPE - Plunge
HEIGHT - 118'
WIDTH - 10'
TYPE OF APPROACH - "Trail" + Bushwhack
DIFFICULTY - Difficult
LOCATION - Middle Fork Nooksack Road
GPS - N48 45.927 W121 53.107
ELEVATION - 5055'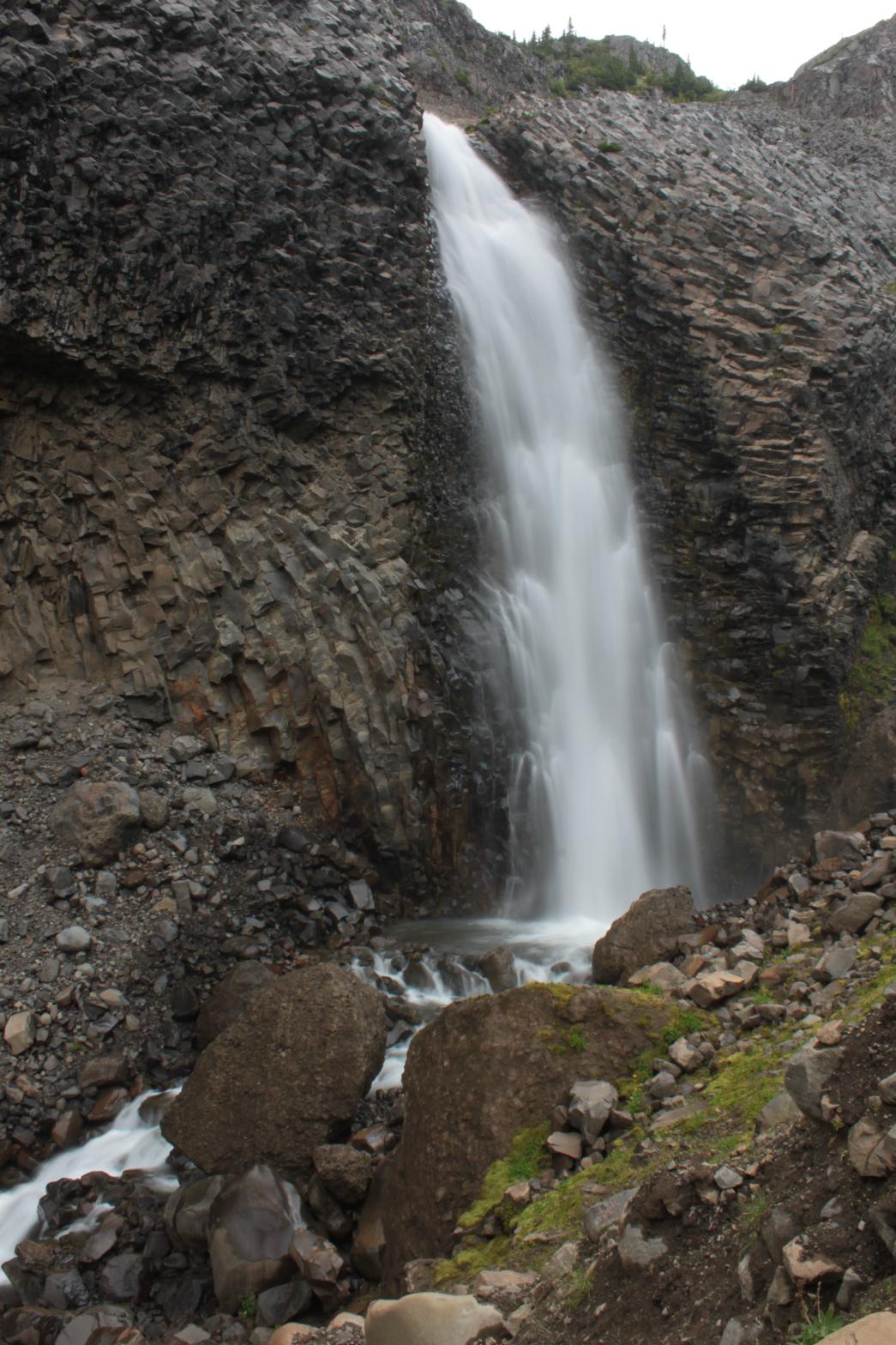 Thunder Falls is the uppermost of the five waterfalls on Wallace Creek. The waterfall occurs just downstream from the Thunder Glacier where Wallace Creek drops 100' over the side of the best bedrock formation on the entire mountain. The waterfall is surrounded 300 degrees by amazing, twisted and contorted bedrock. The waterfall is impressive enough by itself, but when you add in the amazing cliff it takes it over the top.

The waterfall can be seen across the valley from the top of a seasonal waterfall that drains a really pretty meadows, but can really only be appreciated from up close. Unfortunately, getting upclose involves a fairly lengthy off-trail trip which wouldn't be too bad if the trail up to the meadows wasn't so darn steep and exhausting. Luckily there are several other waterfalls in the area as well so it makes the trip worthwhile. I encountered an almost uncountable amount of mountain goat tracks and poop in the basin, so I know there are goats around, but I didn't see any on my trip. It was pretty cloudy on my trip, but if you visit the area on a sunny day I suspect that the views of the Black Buttes towering high over the valley is a sight to behold.

A special note should be made that this is an unofficial trail and it is REALLY steep. There are places where the top of the ridge is only a couple feet wide and the drop-of on either side is very steep. The last 1/4 mile or so before the meadows is probably a 60 degree angle uphill and requires the use of berry bushes to help pull you up (it makes a nice snack if you come when the berries are ripe though). It's worth the effort, but be aware that this trail is in no way easy. If you make it to the meadows, it's possible (obviously from these pictures) to get closer. Follow the directions to Lightning Falls and then wander across the valley to the ridge above the falls where you can get a great view.
DIRECTIONS - Drive along the Middle Fork Road, taking a left in about 3 miles at the Y. In about 12 miles and shortly after crossing Rankin Creek (should be the 4th bridge), turn left onto a bumpy, overgrown dirt road. Drive up this road as far as you feel comfortable (it's really rough) and then walk the rest. At the 5th switchback you should see a campsite. Just after the 6th switchback, look for a trail heading uphill on the right (it's easy to miss). Follow this extremely steep trail for a little over two miles to the meadows and a tiny little pond. From there head offtrail through the meadows to the north until you reach the edge of the cliff with Wallace Creek Valley below you. Look to the north and you should see the waterfall.

NEARBY WATERFALLS - Lightning Falls, Lower Thunder Falls, Upper Lightning Falls