VR - 6.0 (Medium) HR - 11 SR - 6/20
TYPE OF APPROACH - Bushwhack
DIFFICULTY - Very Difficult
LOCATION - Cascade Pass Area
TYPE - Tiered
HEIGHT - 1200'
WIDTH - 75'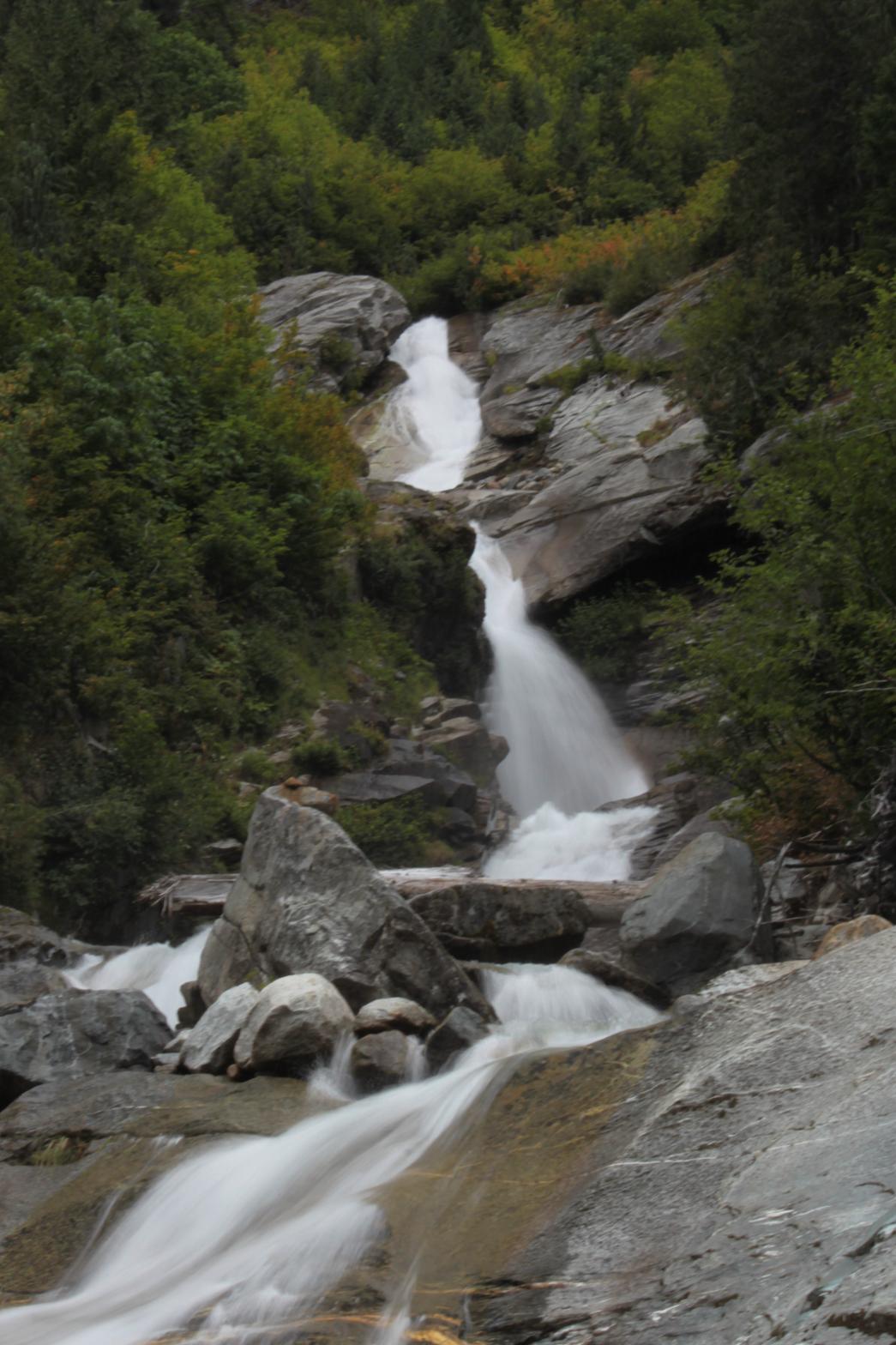 Boston Creek Falls is located along the Cascade River Road. It is one of many very large waterfalls in the area but like most, only parts of the falls can be seen easily. As far as I can tell, the waterfall begins where three separate branches of the creek combine, each dropping over a substantial waterfall. The western-most branch drops about 500' in a beautiful sweeping horsetail that can be clearly seen from the road. The middle branch drops in a sheer plunge of around 200' with several more drops above and below. This plunge can be seen through the trees from the road from certain vantage points. Finally the eastern branch appears to drop into the canyon in a beautiful horsetailing drop.
After combining the creek turns a corner and drops over a 279' tall series of drops. Thus far, this is the only section of the waterfall that I've been able to get a close view of. It begins with a 122' horsetail, followed immediately by a 70' tall plunge and 87' worth of slides and cascades. This section may need to be changed into a legitimate middle falls upon further investigation as it looks like there is a fairly lengthy flat stretch above these drops.
The area around the creek is absolutely full of satanic brush. This makes getting close views very difficult. It took me about 15 minutes to travel about 50' along the side of the lower falls in order to get above it. If one can get to the elbow in the creek above the 279' section, one should be able to get a view looking up the canyon at the spot where the three branches come together. This will be extremely difficult and is highly speculative, but I'm hoping to give it a try at some point in time.
DIRECTIONS - Drive east on Highway 20 from Sedro-Woolley to the town of Marblemount. When the road turns to the left, head straight across the bridge over the Skagit River onto Cascade River Road. The road crosses over Boston Creek at about 21 3/4 miles. The lower section of the falls can be seen from here. Walking along the road reveals views of high portions of the falls.
NEARBY WATERFALLS - Cascade Basin Falls, Gilbert Falls, Johannesburg Falls, Morning Star Falls, Roush Creek Falls, Soldier Boy Falls, Torment Falls