VR - 6.0 (Med) HR - 11.0 SR - 8/20
TYPE OF APPROACH - Roadside
DIFFICULTY - Very Easy
LOCATION - Cascade River Road
TYPE - Fan
HEIGHT - 1400'
WIDTH - 20'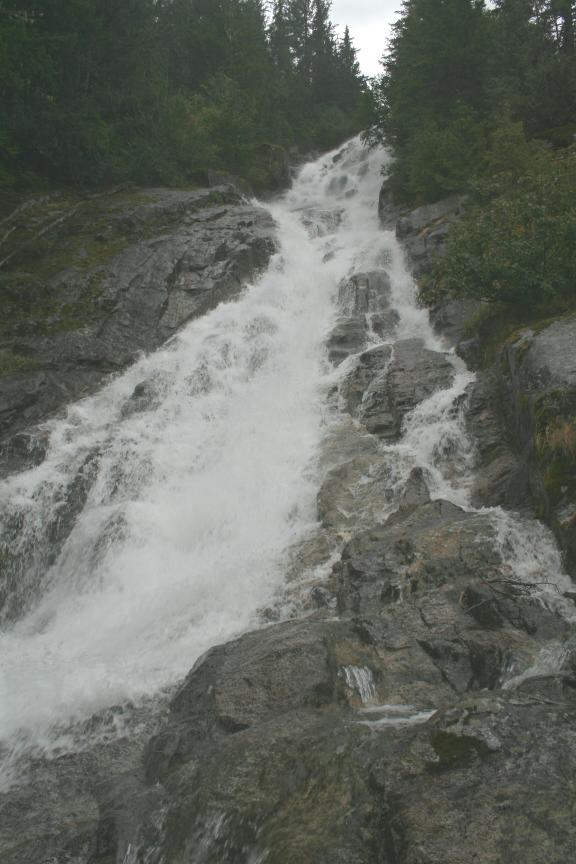 Torment Creek tumbles down from Mount Torment into the North Fork in a long series of drops totaling well over 1000'. What can be seen of the falls begins with a sheer plunge around 100' tall followed by back-to-back-to-back horsetailing drops.

The trip into the base of the falls is not horribly difficult and is actually a lot of fun. The picture at the bottom shows the falls from here but there is some massive foreshortening in the photo. There is probably 300' of waterfall visible in that picture.
DIRECTIONS - Take HWY 20 east to the Cascade River Road. Follow it for about 21 miles to the last bridge over the North Fork of the Cascade River. Just before the bridge you can see Torment Falls through the trees across the valley. It is also possible to reach the base of the falls with some work. Park just before the bridge over the North Fork and walk across. Head into the woods towards the creek and uphill. The woods is fairly open through here so if it gets too brushy just head straight uphill past it. After a short distance you'll come out of the woods at the bottom of a massive cliff face and you should be able to hear the falls. Cut across the rock in whatever safe route you can find to the view of the falls.
NEARBY WATERFALLS - Boston Creek Falls, Cascade Basin Falls, El Dorado Falls, Gilbert Falls, Johannesburg Falls, Morning Star Falls, Roush Creek Falls, Soldier Boy Falls