VR - 4 (Sm/Med) HR - 8.0 SR - 10/20
TYPE OF APPROACH - Roadside
DIFFICULTY - Very Easy
LOCATION - Cascade Pass Area
TYPE - Tiered
HEIGHT - 399'
WIDTH - 10'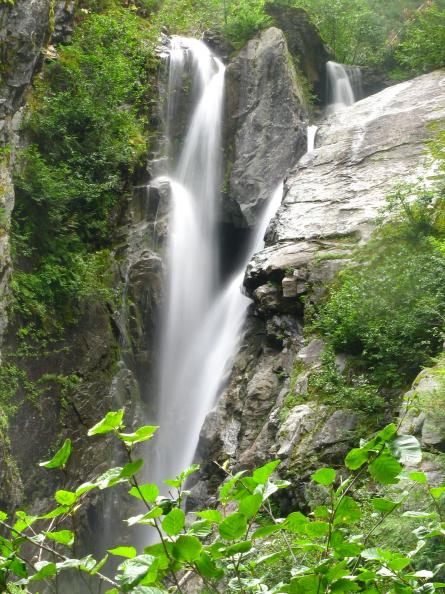 Gilbert Falls is a spectacular waterfall if you can get to a good view. The falls consist of a gorgeous 136' tall plunge followed almost immediately by a nice 48' tall fan. Below that there are three more drops, each in the 25-30' range, bringing the total height to 399'.
To get a clear view of the main drop, climb into the woods on the right side of the creek and start climbing. After about 200' vertically you can head over to the creek along a pretty steep hillside to a nice view. There's a good chance that the falls are much taller than what I've seen. The best bet to find out is to climb up the left side of the creek. I think you could also get a clearer view of the main drop along with the next drop down from this side too. I'm not sure how brushy it is on that side of the creek though.
DIRECTIONS - Take HWY 20 east to the Cascade River Road. Follow the road for around 21 miles. The bottom tier and the top of the main drop of Gilbert Falls can be seen from the road. If you get to Boston Creek, you've gone too far.
NEARBY WATERFALLS - Boston Creek Falls, Cascade Basin Falls, Johannesburg Falls, Lower Boston Creek Falls, Morning Star Falls, Roush Creek Falls, Soldier Boy Falls, Torment Falls