VR - 8.0 (Big) HR - 7.5 SR - 12/20
TYPE OF APPROACH - Trail
DIFFICULTY - Very Difficult
LOCATION - Foss River Trail
TYPE - Tiered
HEIGHT - 350'
WIDTH - 80'
GPS - N47 35' 56.56" W121 18' 51.62"
ELEVATION - 3150'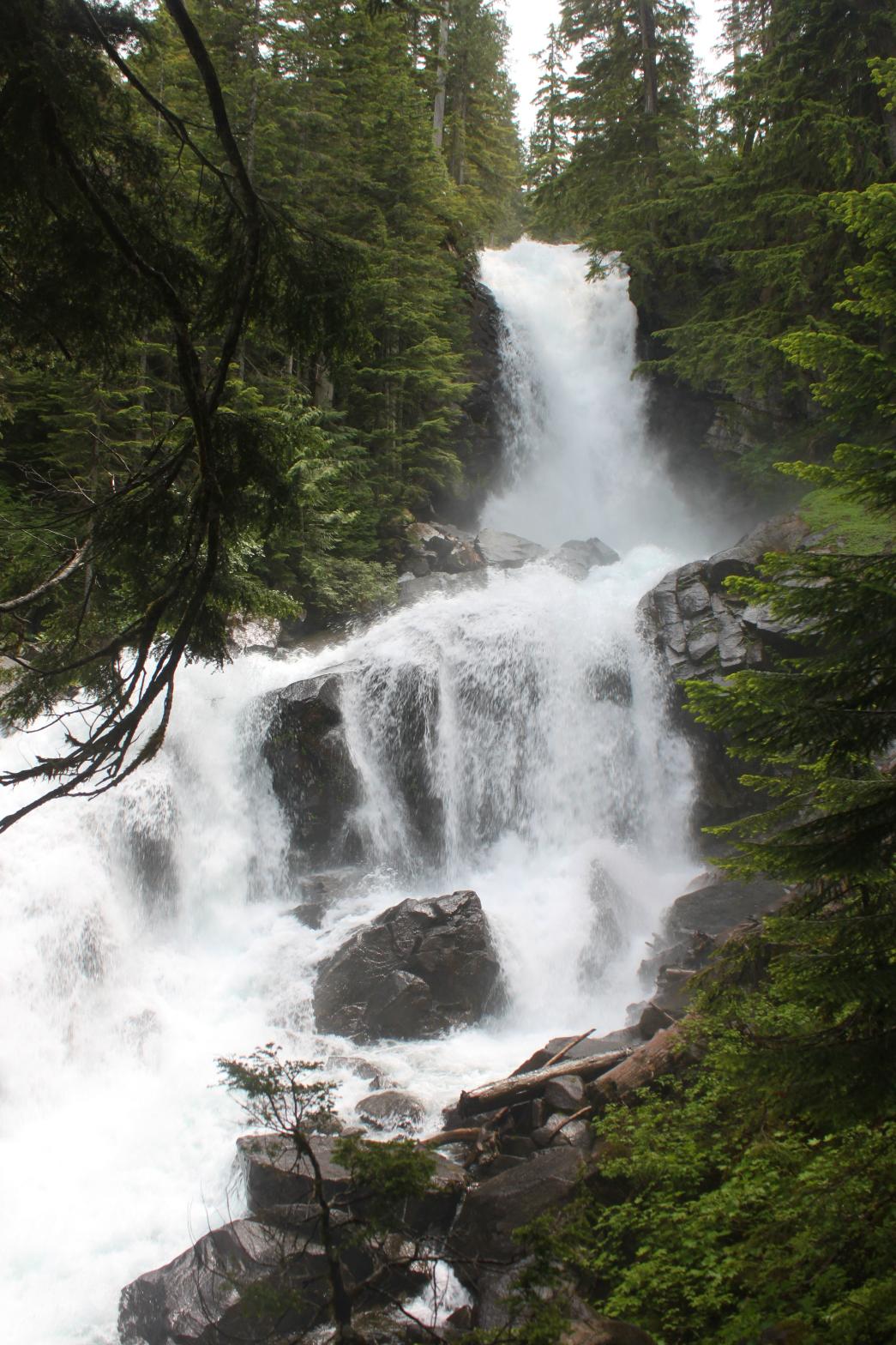 Choosing between the two massive waterfalls on the West Fork of the Foss is like picking which of my kids I have to give away, but, if I had to choose, I give the Upper Falls a slight edge. The Foss River leaves Delta Lake in two streams. The eastern fork sort of meanders along before plunging around 200' to join the other half of the falls. This part is tough to see. The main portion of the river plunges over an amazingly powerful 80' plunge (seen on the left), before splitting in two and dumping over a series of powerful drops. Eventually, these two segments join with the 3rd segment and the full force of the river cascades through a narrow canyon that is, unfortunately, impossible to see. Even without this bottom section, this is one of the best waterfalls in the area and its sheer power can only be matched by a handful of others. The spray that the river kicks up is truly immense. While the trip to the falls and Delta Lake are technically on a trail, this is a very difficult journey. We made it in and out in one day, but it was thoroughly exhausting. A camp-out at the lake would probably be the best bet.
DIRECTIONS - From Lower Foss River Falls, continue along the path for another 1/2 a mile to the upper falls. You might have to scramble around a bit to find a view of the middle section. The bottom is pretty much impossible to see without crossing the river (which you shouldn't attempt). The upper drop is easily seen from the trail.
NEARBY WATERFALLS - Angeline Falls, Big Heart Falls, Lower Copper Creek Falls, Lower Foss River Falls, Middle Copper Creek Falls, Shoestring Falls