VR - 4 (Med/Sm) HR - 1.5 SR - 8/20
TYPE OF APPROACH - Bushwhack
DIFFICULTY - Fairly Easy
LOCATION - Baker Lake Road
TYPE - Cascades
HEIGHT - 25'
WIDTH - 25'
GPS - N48 37.282 W121 44.249
ELEVATION - 964'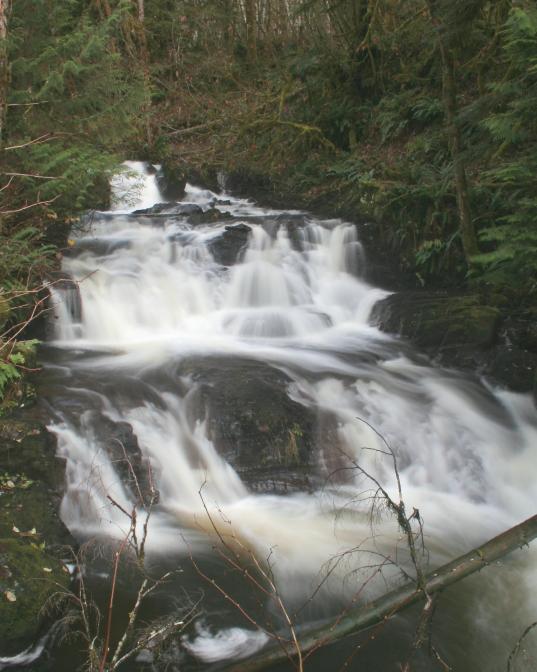 Abandonment Falls occurs on a small tributary of Bear Creek near Lake Shannon. The creek drops around 25' in several small steps directly behind an old powerhouse.
There are tens of thousands of these little cascades in Washington and I normally wouldn't bother putting them up here. I decided to add this one because it is a short side trip from the other, bigger falls in the area and the old powerhouse is cool in itself. This isn't a horribly exciting waterfall but it is very pretty and has good photographic potential with the right lighting. If you're going to the other falls in the area, you might as well stop off here as well. This waterfall might even run dry late in the summer but I doubt it. I named it Abandonment Falls after the abandoned powerhouse.
DIRECTIONS - Follow the directions to Laplash Falls. At the end of the road, instead of going straight over the footbridge, turn left and head towards the abandoned powerhouse. The falls are behind the building.
NEARBY WATERFALLS -
Klahanie Falls, Laplash Falls, Lower Klahanie Falls, Lower Laplash Falls, Mesachie Falls