VR - 8 (Big) HR - 5.0 SR - 8/20
TYPE OF APPROACH - Bushwhack
DIFFICULTY - Fairly Difficult
LOCATION - Baker Lake Road
TYPE - Cascades
HEIGHT - 106'
WIDTH - 60'
GPS - N48 36.976 W121 44.155
ELEVATION - 763'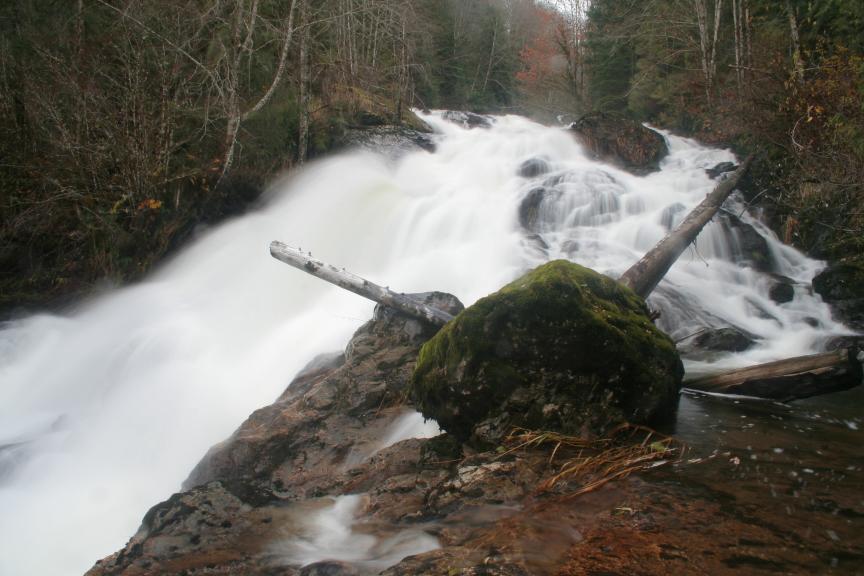 Bear Creek contains a plethora of waterfalls in its final mile. This is the tallest waterfall on the creek and rivals Klahanie Falls as the best of the bunch. The falls consist of a series of cascading drops as the creek roars down a brush-lined rock face. In the middle of the falls is a big rooster-tail, shooting water 20' above the rest of the creek (it's a little tough to make out in these pictures).
Mesachie is a Chinook word meaning evil, bad, or dangerous. Late in the summer the falls probably lose most of their "oomph" but if you catch the creek running high this one is quite a sight.
DIRECTIONS - Follow the directions to Laplash Falls. Continue walking along the old road bed for another 1/4 of a mile. At this point you should be able to hear the falls to your right. Smash your way down through the brush to the creek where the falls should be very obvious.
NEARBY WATERFALLS -
Abandonment Falls, Klahanie Falls, Laplash Falls, Lower Klahanie Falls, Lower Laplash Falls