VR - 8 (Big) HR - 2.0 SR - 14/20
TYPE OF APPROACH - Bushwhack
DIFFICULTY - Easy
LOCATION - Baker Lake Road
TYPE - Cascades
HEIGHT - 47'
WIDTH - 100'
GPS - N48 37.089 W121 44.207
ELEVATION - 917'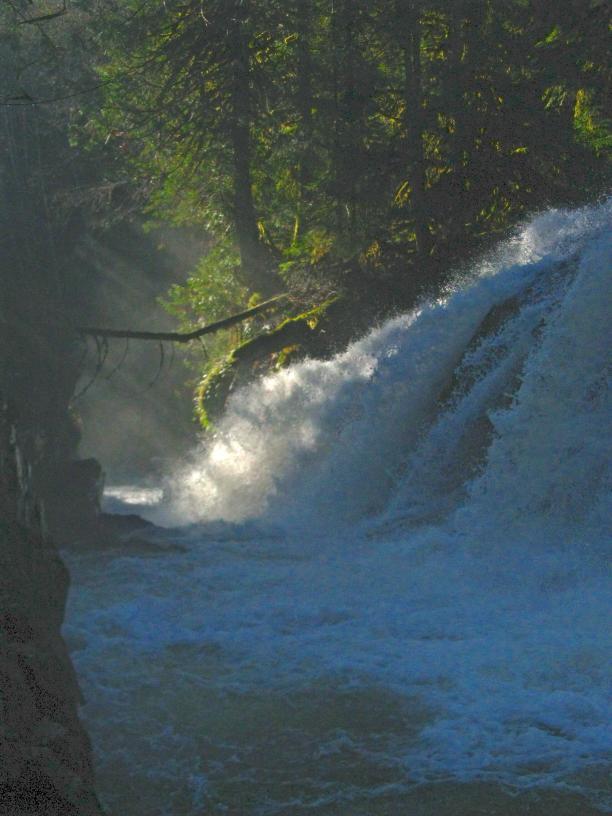 As Bear Creek nears Lake Shannon, it picks up a good amount of water from several tributaries and drops over several waterfalls. Laplash Falls (Laplash means "wide" or "broad" in Chinook) is the uppermost waterfall in this area. The creek drops about 15' over an old dam before running over a natural waterfall. The creek splits in two and drops about 20' before sheeting out and pouring 26' into a narrow crack with the water over 100' wide. At the base of this drop, the creek hangs a sharp right, similar to Sol Duc Falls on the Peninsula. Another waterfall exists a few hundred feet downstream that looked to be around 15' tall and 40' wide. The name of this waterfall will most likely change after further research but I'll stick with this one for the time being.
I found it very difficult to get a good picture of the upper section of the falls. The view from the front was covered with brush and spray from the falls was rampant. Pictures from the side of the slot work very well. The best photo spot would be from the opposite bank where the creek dumps out of the crack but getting there is likely to be a massive challenge.
DIRECTIONS - Drive east on Hwy 20 and turn left onto Baker Lake Road just past the Baker Lake Store. Follow this road for about 9 miles until you cross Bear Creek (unsigned). Park at the 2nd of two pullouts on the right side and start walking up the road. In about 1/2 a mile the road will become undrivable in a meadowy area. Continue walking straight ahead to a wooden footbridge over a tributary of Bear Creek. In another few hundred feet you will see the dam and the falls.
NEARBY WATERFALLS -
Abandonment Falls, Klahanie Falls, Lower Klahanie Falls, Lower Laplash Falls, Mesachie Falls