VR - 8 (Big) HR - 2.0 SR - 4/20
TYPE OF APPROACH - Bushwhack
DIFFICULTY - Fairly Easy
LOCATION - Baker Lake Road
TYPE - Tiered
HEIGHT - 45'
WIDTH - 20'
This is the only one of the falls along Bear Creek that isn't really worth the trouble of viewing closely. The falls can be seen from the old roadbed high above the creek. I climbed down the steep hillside to get a closer view but I couldn't find a good view. Just take a peak over the side and move on to the better falls further downstream.
The falls start with a little 5' block shaped drop. That is followed almost immediately by a 10' tall block shaped falls and then the 30' tall main drop shown here. The bottom drop is actually much steeper than it looks here. The bottom tier dumps into an extremely deep pool of water where Bear Creek runs through a narrow slot. If a clear view from in front of the falls existed, this would actually be a very cool and impressive waterfall. As is, it's mostly an afterthought compared to the other falls on the creek.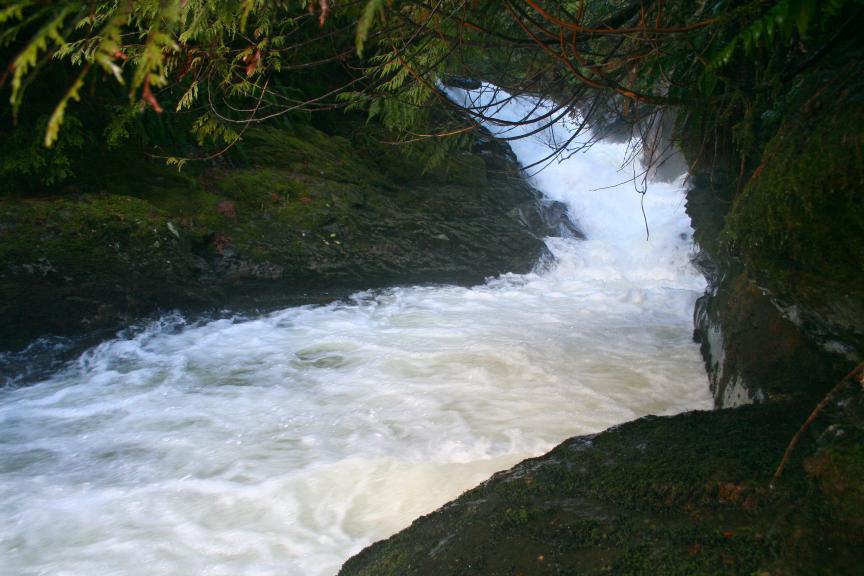 DIRECTIONS - Follow the directions to Laplash Falls. Continue following the vague path down the old roadbed for another couple hundred feet to where you can hear the falls below the road. Walking a short distance off the road will provide a view over the top of the falls.
NEARBY WATERFALLS -
Abandonment Falls, Klahanie Falls, Laplash Falls, Lower Klahanie Falls, Mesachie Falls