VR - 8 (Big) HR - 4.0 SR - 8/20
TYPE OF APPROACH - Bushwhack
DIFFICULTY - Fairly Difficult
LOCATION - Baker Lake Road
TYPE - Cascades
HEIGHT - 72'
WIDTH - 20'
GPS - N48 36.773 W121 43.998
ELEVATION - 496'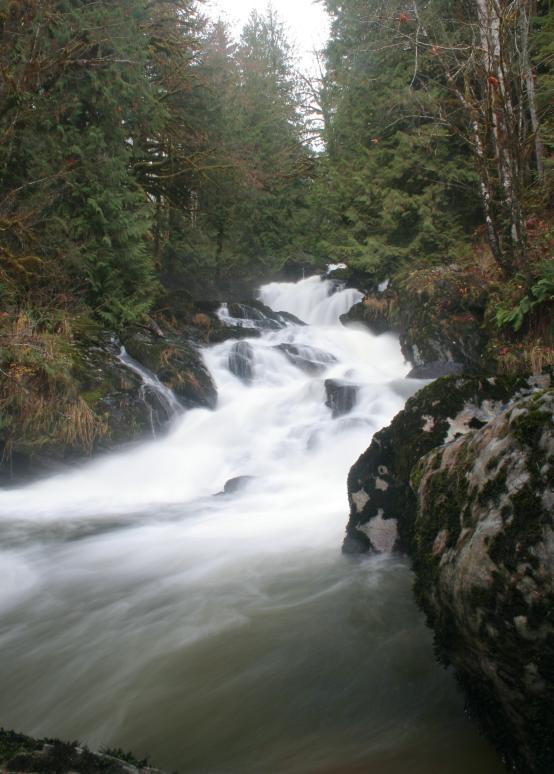 Bear Creek contains a plethora of waterfalls in its final mile. This is the lowest waterfall on the creek. The falls begin with a 15' tall vertical drop and then proceed into a trough with the raging water sloshing along on the way down. The falls total 72' tall at an angle of around 40 degrees. The view from the bottom is nice and you can dink around the remains of the old powerhouse while you're there if you'd like.
Getting to the falls is not too difficult with the exception of the final climb down the steep hillside to the base. It's very brushy and very steep.
DIRECTIONS - Follow the directions to Klahanie Falls. The Lower Falls are located a few hundred feet downstream. The best view is from the base of the falls near the old powerhouse ruins. The easiest way to get there is to find the large pipe heading down the hill and follow it to the creek.
NEARBY WATERFALLS -
Abandonment Falls, Klahanie Falls, Laplash Falls, Lower Laplash Falls, Mesachie Falls