VR - 2 (Small) HR - 7.0 SR - 8/20
TYPE OF APPROACH - Bushwhack
DIFFICULTY - Medium
LOCATION - Nooksack Falls area
TYPE - Tiered
HEIGHT - 282'
WIDTH - 10'
GPS - N48 54.661 W121 48.365
ELEVATION - 1961'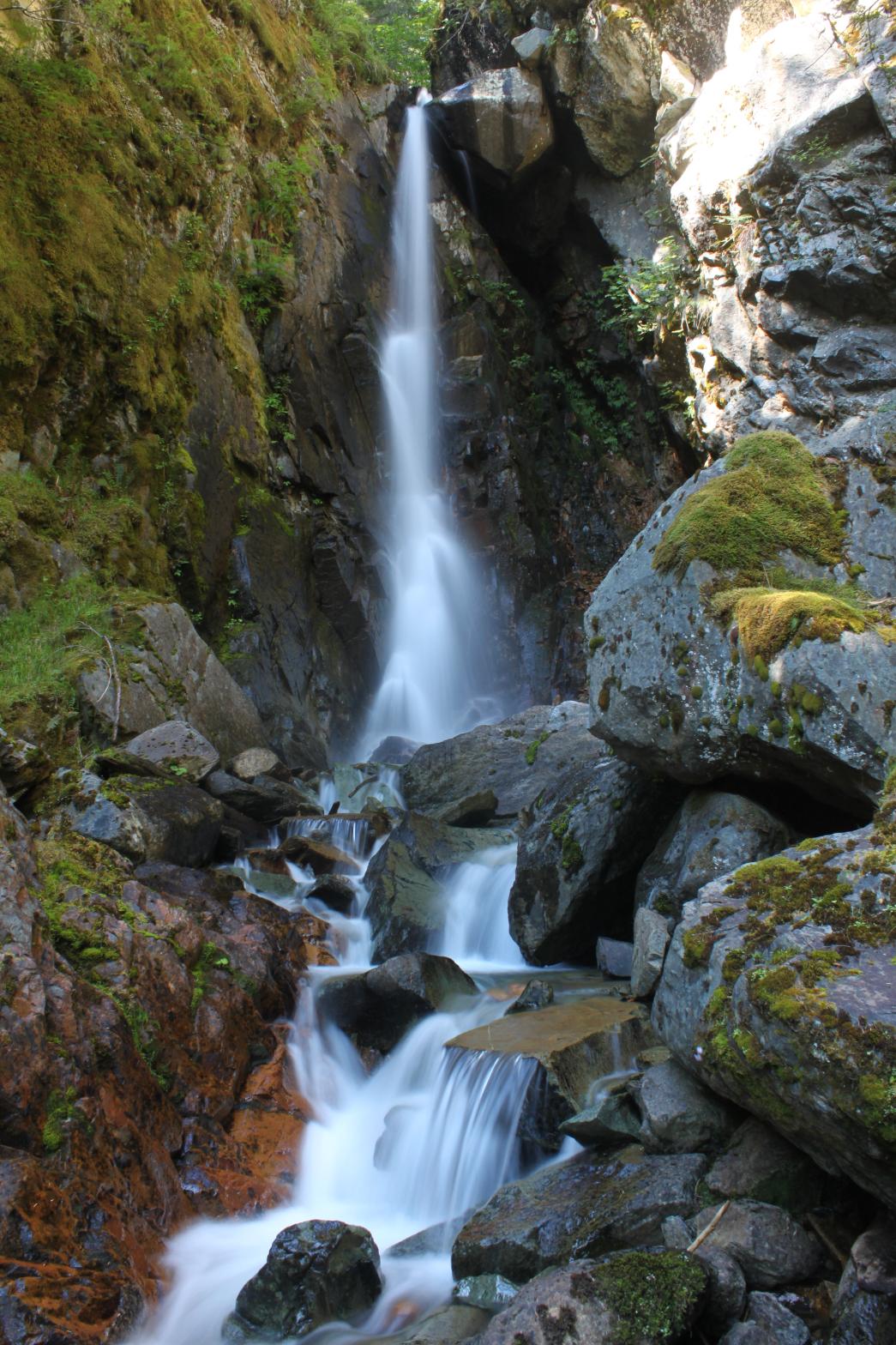 Chances are, you've driven over and probably admired this creek on your way to visit Nooksack Falls, without even realizing it had a lovely little waterfall of its own. The waterfall has three main sections. The upper section is located in a deep alcove that requires scrambling up (and then back down on the way out) a 30' tall, nearly vertical cliff. This section contains a 51' tall plunge, followed by 36' worth of cascading, sliding drops. Immediately upon leaving this alcove, the creek drops over the second section, a gorgeous 55' tall fan shaped drop. The lower section begins immediately below the fan and is a long, 130' tall series of cascades. The total height of the waterfall is nearly 300', but only small sections of it can be seen from any one location.
While the waterfall is pretty, it's probably not worth the effort since only the very hardy (some would say foolish) will be able to see the best tier. To the west of the creek is a massive cliff wall that is every bit as impressive as the waterfall itself.
DIRECTIONS - Drive east on Mt. Baker Highway and park at a small turnout on the south side just past the turn off for Wells Creek Road and Nooksack Falls. Cross the highway and head upstream alongside the small creek. In about 500' you should reach the cascading bottom tier of the falls. The going gets progressively more difficult as you climb to higher parts of the waterfall, culminating in a climb up a nearly vertical 20' tall cliff to view the uppermost tier.
NEARBY WATERFALLS - Landslide Falls, Lower Mazama Falls, Mazama Falls, Nooksack Falls, Sholes Creek Falls, Upper Excelsior Falls, Wells Creek Falls