VR - 6.0 (Med) HR - 6.0 SR - 18/20
TYPE OF APPROACH - Bushwhack
DIFFICULTY - Extremely Difficult
LOCATION - Wells Creek Road
TYPE - Tiered
HEIGHT - 165'
WIDTH - 15'
GPS - N48 51.273 W121 46.400
ELEVATION - 2921'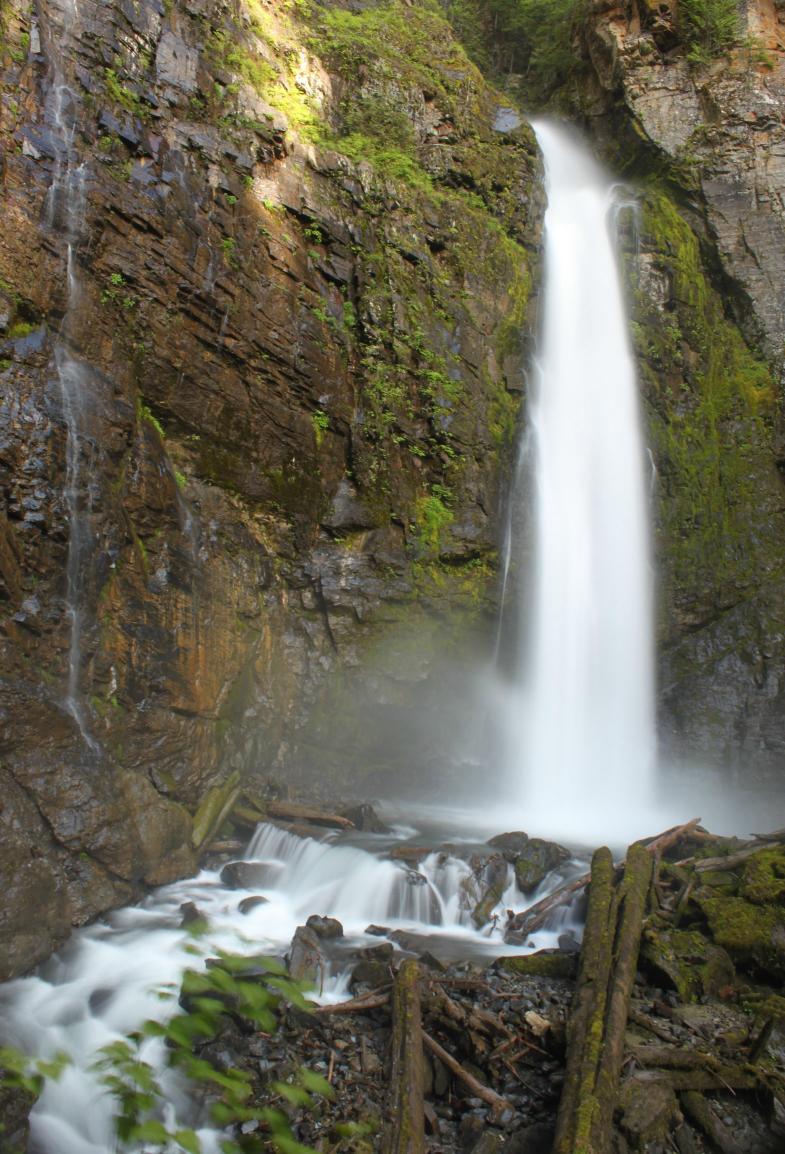 Sholes Creek Falls is a big impressive waterfall that is EXTREMELY tough to get a clear view of. A view of the falls through the trees can be had by just walking through the woods to the creek and then looking upstream (2nd picture from the left below). Unfortunately there's a little bend in the creek that must be navigated to get up close and this is the tough part. From where you reach the creek, it is a 1/4 mile trip up the creek to clear views of the falls. I recently made it into the falls by climbing sideways along the steep walls of the canyon. I eventually got a better view of the falls but it was pretty sketchy so I can't really recommend that route (or the creek route for that matter).
Technically this waterfall is tiered because there is a drop of around 60' immediately above the main drop but it can't be seen from the base of the falls. The amphitheater around the falls is really nice with a massive pillar of rock on the right side of the falls that looks like something you'd see in Southern Utah (other than the trees).
I suspect there is at least one more large waterfall (and probably two) on Sholes Creek further upstream that I will attempt to reach this summer.
DIRECTIONS - Follow the directions to Wells Creek Falls. Continue past the falls to the bridge over Bar Creek. Park before the bridge and head into the woods along the left side of Bar Creek. After a short distance in the woods, you will drop down into Sholes Creek. Walking up the creek a short ways will enable a view of the falls through the trees. Getting better views can be accomplished one of two ways: wading up the creek or following a very faint path along the steep canyon walls. This path will get you pretty close, but the final climb down to a clear view is very steep. If you take your time and move carefully you should be alright but a mistake here would be bad.
NEARBY WATERFALLS - Excelsior Falls, Landslide Falls, Lasiocarpa Falls, Lower Mazama Falls, Mazama Falls, Middle Sholes Creek Falls, Nooksack Falls, Wells Creek Falls