VR - 8 (Big) HR - 9.0 SR - 14/20
TYPE OF APPROACH - Roadside/Bushwhack
DIFFICULTY - Very Easy/Extremely Difficult
LOCATION - Wells Creek Road
TYPE - Tiered
HEIGHT - 528'
WIDTH - 60'
GPS - N48 51.044 W121 44.586
ELEVATION - 3483'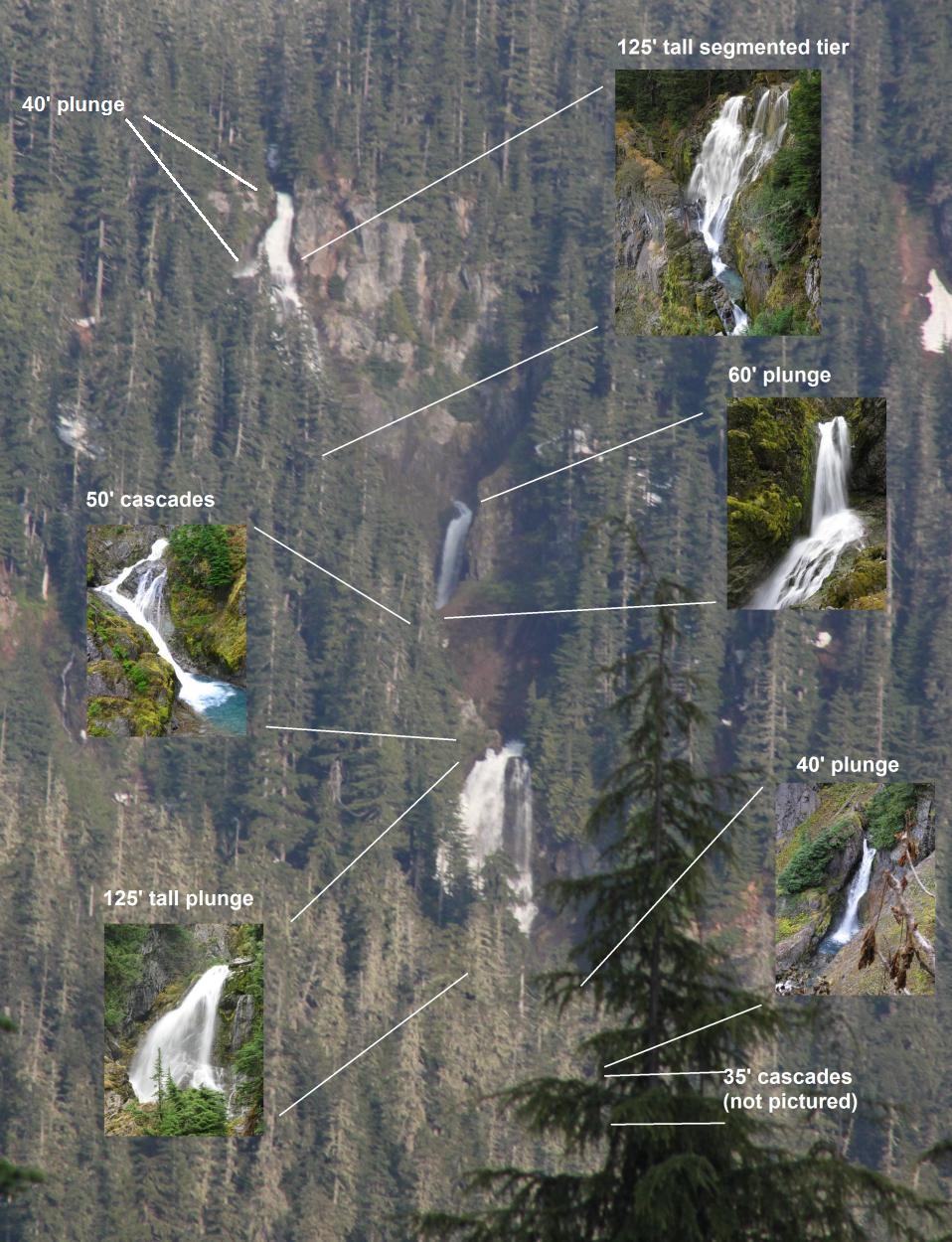 Mazama Falls is a huge, very complex, multi-tiered waterfall that occurs where Wells Creek drops off the side of the mountains and into the valley. The result is one of the best waterfalls in the Northwest. The falls are rarely viewed from up close due to the extreme difficulty of getting there. The falls consist of seven tiers as follows: 53' plunge, 106' segmented, 102' plunge into a horsetail, 36' cascades, 140' fan, 43' plunge, 40' cascades. The water of Wells Creek is a gorgeous blue through the falls and there are several pools which showcase this perfectly. The falls can be seen from Wells Creek Road at a distance of several miles. Even from here the falls appear most impressive. From up close, they are astounding!
There apparently used to be a trail that ran from Wells Creek Road and passed Mazama Falls on its way upstream. I have been unable to find any trace of this trail in my searching. I have been to the falls twice, once by following the creek upstream from Wells Creek Falls and once by coming in from above via the Ptarmigan Ridge Trail. Both are very difficult. The lower route is shorter and brushier, while the upper route involves more elevation gain and loss, but is a much more pleasant trip. I recommend taking the high road, but be extremely careful climbing down the side of the falls. There are a lot of steep slopes where a slip will be fatal.
DIRECTIONS - Follow the directions to Nooksack Falls. Continue on Wells Creek Road for another 5 miles or so until it crosses over Bar Creek, passing Wells Creek Falls along the way. After the road crosses Bar Creek it gets pretty bumpy and brushy but is still drivable. As the road rises above the creek look back across the valley where you can see Mazama Falls from a couple miles away.
NEARBY WATERFALLS - Excelsior Falls, Landslide Falls, Lower Mazama Falls, Nooksack Falls, Sholes Creek Falls, Wells Creek Falls