VR - .9 (Tiny) HR - 8.0 SR - 4/20
TYPE OF APPROACH - Roadside
DIFFICULTY - Very Easy
LOCATION - Van Zandt Area
TYPE - Tiered
HEIGHT - 400'
WIDTH - 30'
ELEVATION - 400'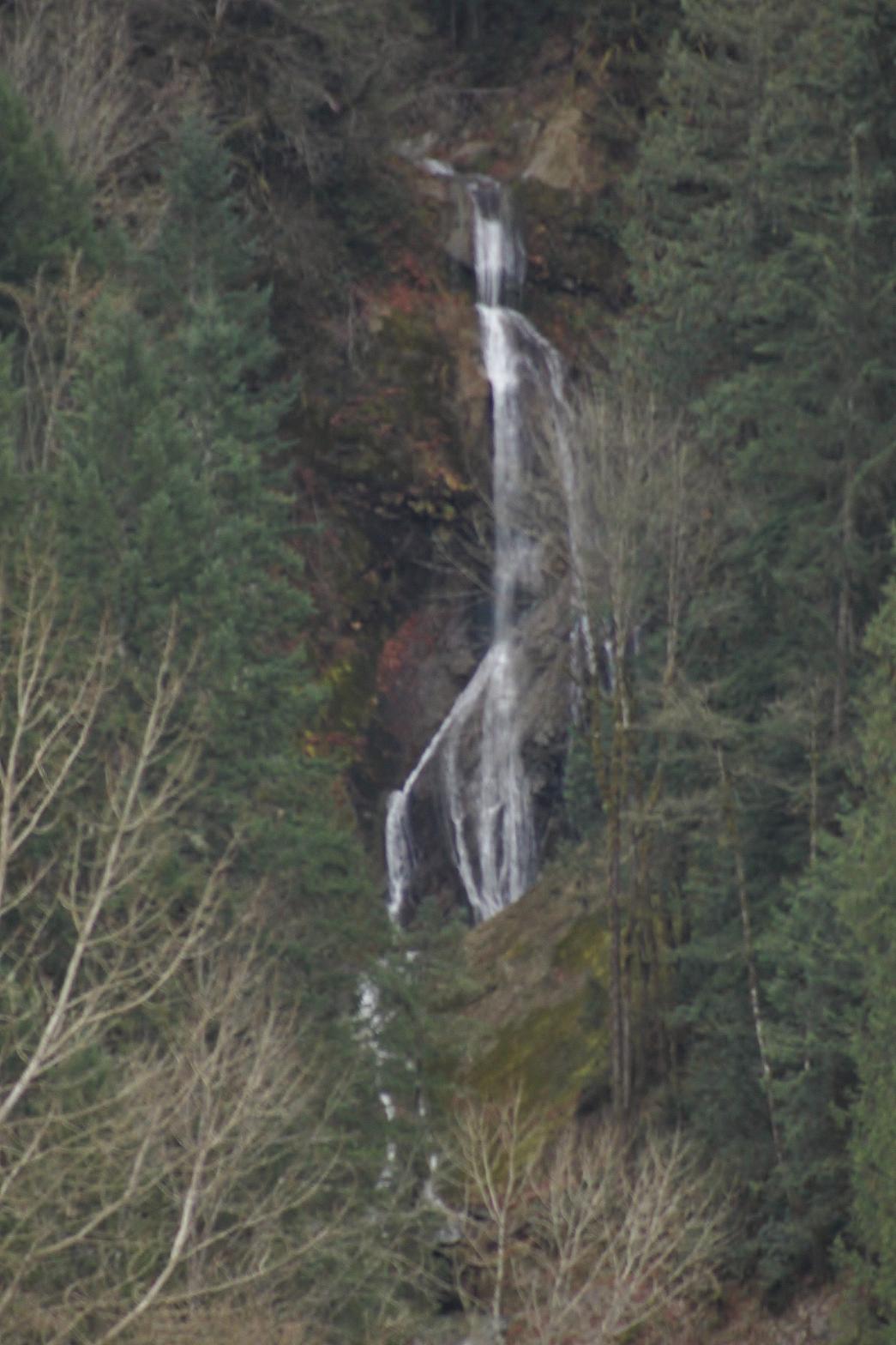 I've gone back and forth on whether to include this waterfall on the site but I finally decided just to stick it up here. This very tall waterfall occurs where a tiny, unnamed stream drops off of the Van Zandt Dike and drops about 500' in a series of lacy tiers. While small in volume, the falls can easily be seen from the car and during the wet season can be quite impressive.
The best view of the falls is from Nelson Road near a cow pasture. While I was trying to take my pictures, a couple of cows came over and yelled at me to get out of there (at least I think that's what they were saying). To see the entire waterfall, turn west onto Potter Road off Highway 9 and look to the east from around the bridge over the South Fork. You're about a mile away at this point but the bottom half of the waterfall can be seen. I don't think it's possible to view the falls from up close without crossing private property. I suspect even if you did get there, you would only be able to see a small portion of the falls.
DIRECTIONS - Drive along Highway 9 to the tiny town of Van Zandt and then turn east on Potter Road. Take a right onto Nelson Road and follow it for about 3/4 of a mile, keeping your eyes peeled to the east. You should see the falls easily if there is water going over it.
NEARBY WATERFALLS - Hard Scrabble Falls, Middle Standard Falls, Potter Falls, Standard Falls, Sygitowicz Falls, Tinling Falls, Upper Standard Falls