VR - 6 (Med) HR - 8.0 SR - 16/20
TYPE OF APPROACH - Trail + Bushwhack
DIFFICULTY - Extremely Difficult
LOCATION - Swift Creek Trail
TYPE - Tiered
HEIGHT - 378' *
WIDTH - 20'
GPS - N48 49' 48.93", W121 40' 0.18"
ELEVATION - 3600'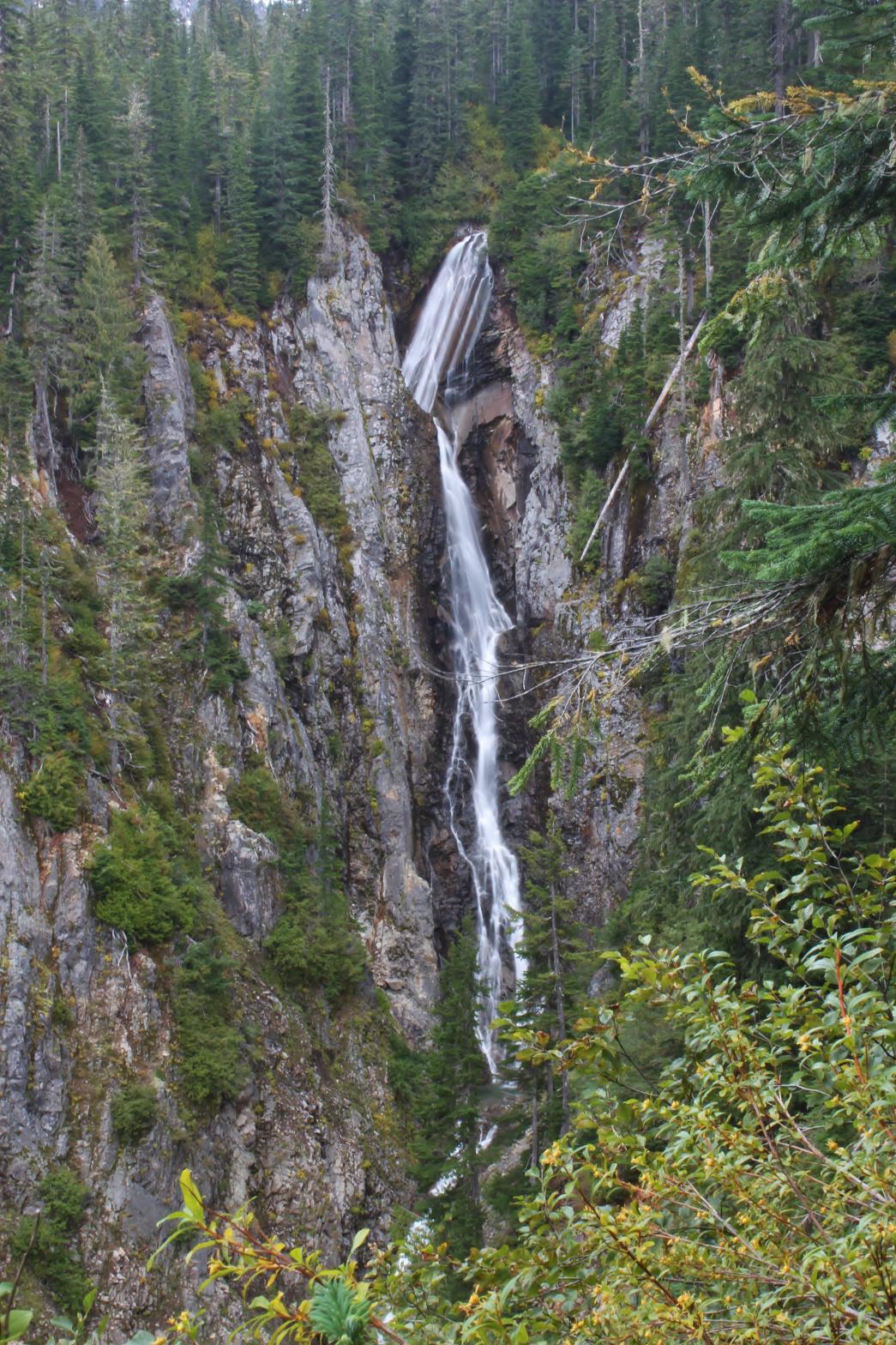 Popahomy Falls is one of the best waterfalls in the Mt. Baker area. The waterfall occurs a short distance downstream from the Swift Creek Trail, but is anything but easy to access. The unofficially named Popahomy Creek encounters a massive cliff and drops nearly 400' in 3 steps. The waterfall opens with a gorgeous 60' tall curtain of water. The creek then turns and plunges 244' in the main portion of the falls. The onslaught finishes off with several more small drops.

The viewpoint for Popahomy Falls is nothing short of breathtaking, but it is also highly dangerous. In fact, the "extremely difficult" rating on this one is entirely because of the hazardous nature of the viewing area. The adventurous visitor is required to stand mere feet away from a sheer drop over 200' in height. From the view seen to the left, one can also look over and see Huntoon Falls dropping from the meadows to the north. The falls can also be seen from the other side of the canyon near Lower Huntoon Falls, but there are always a couple trees in the way.

Popahomy is a Nooksack word meaning "crossing place between two trails". The creek where the falls occur crosses right at the intersection between the Lake Anne and Swift Creek trails. The creek is fairly small and tends to run low later in the summer when the snow stops melting, but when the creek is running high this is a fantastic waterfall.
DIRECTIONS - From Middle Agathot Falls, head north across the ridge. The hillside gets pretty steep, but try to stay at roughly the same elevation or drop slightly as you go. Popahomy Falls is less than 1/4 mile from Middle Agathot Falls but it will take you a bit to get there. You may have to climb around a little to find a clear view. Be VERY careful around the edge of the canyon. This is one of those places where a mistake kills you.
NEARBY WATERFALLS - Agathot Falls, Huntoon Falls, Lower Tatasum Falls, Middle Agathot Falls, Ptarmigan Falls, Tatasum Falls, Upper Popahomy Falls